by
John R. Fischer
, Senior Reporter | September 28, 2020
From the September 2020 issue of HealthCare Business News magazine
Repairs and replacements can often be avoided through routine maintenance. This is primarily for the RF door, which is especially important because it is the only moving part of the shield and is most prone to wear and tear.
"You're going to open and close the RF door hundreds, maybe thousands of times in a week", said Ben Turner, global director for RF shielding at NELCO Worldwide. "It has to function mechanically like a door, but it also has to function like any other element of the RF shield."

For those who need to move fast and expand clinical capabilities -- and would love new equipment -- the uCT 550 Advance offers a new fully configured 80-slice CT in up to 2 weeks with routine maintenance and parts and Software Upgrades for Life™ included.

This means cleaning and lubricating it, to ensure it continues opening smoothly and easily. If the door has a compressor, that also needs to be inspected regularly. Turner recommends that providers additionally keep the RF seals of the door clean by scrubbing them down with a brillo pad or sanding sponge once a month.
"You can replace the RF door and RF window if the primary shield itself is still attenuating properly," said Maslowski. "You can determine if the shield is performing properly by doing the RF attenuation test."
In fact, if the artifacts can be traced back to something isolated like the door, that can be a relatively positive thing. It means the problem is simple and doesn't involve other concealed parts of the barrier.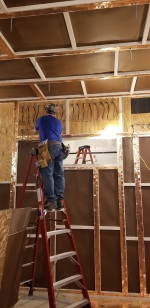 "Repair work can be very minimal, for example, changing out a few components and a door, or very extensive such as re-tightening all the bolted connections on a shield wall and ceiling, which requires all the drywall to be opened up," said Edward Baraghis, general manager for shielding at SDI Canada. Ultimately, he agreed that an RF test will be the deciding factor to determine whether or not an existing shield can be repaired or needs to be replaced.
As with all things, just because an RF shield may be salvageable, that doesn't necessarily mean it should be. At a certain point, the value proposition for comprehensive repairs will fall below what you'll get from investing in a replacement.
"When you start talking about replacing doors and windows, adding magnetic steel shielding and the time spent trying to locate and repair deficiencies in the shielding, the cost between a new RF enclosure and renovating the existing RF enclosure can sometimes become very close," said Matt Boesel, RF division manager of PDC Facilities. "A new RF enclosure will come with a warranty whereas a renovation typically doesn't. Sometimes that makes the decision for a new RF enclosure the better choice."
Back to HCB News