by
Lisa Chamoff
, Contributing Reporter | November 23, 2020
From the November 2020 issue of HealthCare Business News magazine
"These systems offer great value for easy to install, high-quality, American-made floor mount and floor-to-wall/floor-to-ceiling systems that provide reliable imaging in the office market," Gutierrez said.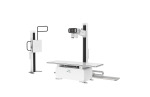 Fujifilm
Fujifilm has several new products planned for RSNA, including the CALNEO Dual detector, the world's first capture dual-layer DR detector. The detector, which the company hasn't yet submitted for FDA clearance, allows you to generate three images from one exposure, capturing the images at different energy levels, including bone only, tissue only and traditional view.
"You can see things hidden behind the ribs," said Rob Fabrizio, director of strategic marketing for digital radiography and women's health at FUJIFILM Medical Systems U.S.A. Inc. "It's a great detector for anywhere where there might be high populations of lung cancer, or for cancer treatment facilities."
While energy subtraction has been around for long time, most energy subtraction requires two exposures.
"This is one exposure with two layers, which minimizes motion artifacts such as from the lungs and heart," Fabrizio said.
The company is also releasing three new X-ray rooms geared toward smaller, budget-minded facilities, such as outpatient centers.
As part of the Clinica family, the company is coming out with a redesigned version of its floor-mounted system, the Clinica FS. The system comes with a touch screen and auto collimation on the tube head, and X-ray generator controls built into an acquisition workstation, instead of having a secondary generator console. The system also features built-in detector connections to keep the battery charged and transfer images faster, a feature that is not typical on a low-cost floor-mounted system, Fabrizio said.
The Clinica X OTC is Fujifilm's new overhead room, which is designed to be lower cost for smaller facilities. It also has the optional capability to perform long-length imaging at the chest stand.
"It's a great, reliable system with the functionality you'd normally have in a hospital-grade room," Fabrizio said.
There is also the Clinica U, a single detector U-arm system that also has a touch display on the tube head and automated exam positioning based on preselected exams.