by
Lisa Chamoff
, Contributing Reporter | May 24, 2021
From the May 2021 issue of HealthCare Business News magazine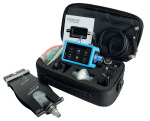 The company has been working with ventilator manufacturers to create new applications using their testing parameters for the CITREX H5.
This year, IMT Analytics has also released the capability for any biomed to create their own test sequences using their FlowLab software.
"They can now use our FlowLab software to create, save, and share tests that follow manufacturer's requirements and completely customize the reports with their company's logo and the customer's specific information," Sanger said.
Life Spark Medical
Life Spark Medical is currently planning the release of its SmartTank capnometer and anesthesia gas monitor tester.
The device automates testing of respiratory gas monitors to the manufacturer's specifications, with all the needed test modalities in a single unit, said Darryl Zitting, co-founder of Life Spark Medical. It can also simulate patient breath with a realistic capnogram.
"With SmartTank, you pick the model you are testing and it walks you through the manufacturer's test procedure," Zitting said. "This takes the place of multiple tools needed to do the performance verification. Instead of carrying a bag of tools you can simply pull out the SmartTank."
Zitting said the device is easy to use, so even the least experienced biomed can perform preventive maintenance on respiratory gas monitors.
The SmartTank has a touchscreen user interface and can run for eight hours on a single battery charge. It automatically generates a report as a text file, without the need for software to read or download the reports.
The Phantom Lab
In the last year, The Phantom Lab has released its Smári Automated Image Analysis software to analyze CT and digital breast tomosynthesis images.
Each phantom has a set of test objects to provide results on manually set criteria, such as geometric distortion on MR, as well as image uniformity and noise. Users upload phantom images and the software provides a report on some of the test objects.