by
Gus Iversen
, Editor in Chief | June 28, 2021
From the June 2021 issue of HealthCare Business News magazine
After serving as chief operating officer for 13 years, Eisenhower Health in Rancho Mirage, California, appointed Martin Massiello as CEO earlier this year.
He sat down with HealthCare Business News to tell us a bit about his journey in healthcare, the COVID-19 pandemic, and what makes Eisenhower special.
HCB News: You have recently been appointed president of Eisenhower Health, but have a long history with the health system. What has attracted you to Eisenhower for all these years?
Martin Massiello:
Part of Eisenhower Health's mission statement is to address the changing health care needs of the region and in my 13 years with the organization, that is exactly what we've been doing. We developed the ambulatory clinic network with clinics from Palm Springs to La Quinta and in Yucca Valley, making Eisenhower Health a fully integrated health network. As a part of that initiative, we have recruited physicians in primary care and a large number of medical and surgical subspecialties; began and continue to expand a graduate medical education program with residencies in internal medicine, family medicine and emergency medicine, as well as several fellowships; affiliated with a major academic medical center for cancer care; added new technologies; and expanded facilities to accommodate growing patient need, to name just a few examples. It's easy to stay engaged and excited when you're part of a forward-thinking health system that engages with community need and makes patient care its true North.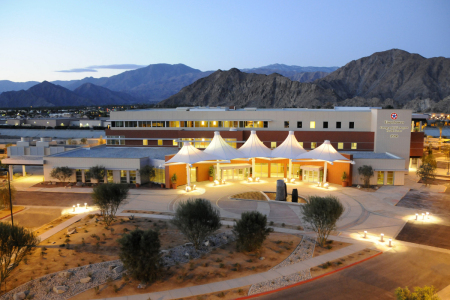 HCB News: What are the biggest differences between your new role as CEO and your previous position as COO?
MM:
I was very fortunate to have a mentor and friend in Aubrey Serfling, our previous CEO. Being COO is very much a "boots on the ground" role with responsibility for all health system operations, and interacting with physicians, leaders and staff helped me get to know the organization intimately over the last 13 years. That, combined with having the close working relationship with Aubrey allowed me to actively participate in a number of strategic projects that moved the organization forward, which is one of the primary responsibilities of a CEO. Those experiences prepared me well for my new role and in many ways made it feel somewhat familiar to me from the first day.