by
Gus Iversen
, Editor in Chief | June 08, 2021
From the June 2021 issue of HealthCare Business News magazine
As a manager, bringing out the best in your team is one of the most powerful skills you can have.
When people are passionate about their job, trust their colleagues, and feel good about what they can accomplish, only good things happen. Laurie Hitzel, administrative director, ancillary clinical services at AdventHealth Zephyrhills & Dade City, is no stranger to the concept of empowering a team. HealthCare Business News sat down with her to learn more about what good leadership looks like, and her own background in medicine.
HCB News: Can you tell us a bit about your background in hospital leadership?
Laurie Hitzel:
My background in hospital leadership culminated from a start in healthcare as a radiologic technologist in the U.S. Air Force. The military prepared me with leadership training and responsibilities early on that were transferable as a civilian. I have been part of the AdventHealth organization since 1999, and in management roles since 2006, as a radiology manager, director of imaging and women's services; and most recently, administrative director, Ancillary Clinical Services at two facilities, AdventHealth Dade City and Zephyrhills, with responsibilities in radiology, laboratory, physical therapy, occupational therapy, speech therapy, and an offsite wound care center. I am passionate about leading teams to ensure their best potential, excellence in customer service, financial management, growth strategies, stewardship, and volunteerism.

SRI is a leading Developer, Manufacturer & Supplier of Innovative Portable Imaging Equipment. We offer Lightweight, Agile, Easy to Maneuver Portable X-Ray Systems ideal for maneuvering in tight spaces. Call us at 631-244-8200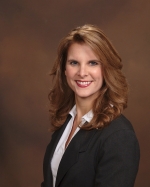 HCB News: What are some of the lessons you've learned over the years that have proven most valuable to your leadership approach?
LH:
Communication is the key to success. Teams should know the "why" behind the goals you are striving for. 2. Trust is earned. If you trust your teams, they will go the mile for excellence. 3. As a leader we do not have all the answers. It is okay to ask for help and lean on other leaders. Everyone has a story to share with diverse backgrounds and different views, which can be amazing, and your colleagues and teams may just hold the answer. 4. Humility and self-reflection. Solicit feedback. Feedback is a gift and self-reflection can make you a stronger leader in the long run. 5. Continuous learning. Always strive to keep up and push yourself. If it's self-help, immersing yourself in new technology, or finishing the book you started last year. Most of what I've learned over the years is based on experience, relationships, and some failure. Without failure, there is no success.