by
John R. Fischer
, Senior Reporter | June 21, 2021
From the June 2021 issue of HealthCare Business News magazine
It is perhaps an understatement to observe that claims management in healthcare is a profoundly complicated process with plenty of room for error. When details are missing or mistakes are made, hospitals and physician groups often wind up paying the cost.
"You need clinical documentation experts that understand, from a reimbursement standpoint, an insurance company mindset of what needs to be captured in order to maximize revenue," Anurag Mehta, president and co-founder of revenue cycle management company Omega Healthcare, told HCB News. "Otherwise, you're leaving money on the table."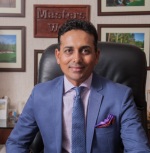 With the transition to value-based care, updates in regulatory and medical coding protocols and changing consumer demands, the complexity of revenue cycle management has only intensified in recent years. As a result, many hospitals and healthcare systems are looking for options that will optimize their revenue cycle processes, improve their financial outlook and streamline the patient experience.
Personalization and a retail experience
Replacing fee-for-service with value-based care has created an exponential number of factors to consider in RCM, including social determinants of health, readmission rates and comorbidities data. Hospitals must account for hundreds of variables when submitting claims to ensure they're able to secure the reimbursement they expect. The best way to do this is to stay on top of regulatory changes and medical billing protocols, and demonstrate provider performance.
"If you can demonstrate everything you've done to provide more value-based care, meaning better care, to a payer, then you are going to be more eligible for some of these new incentives for the additional revenue in Value Based Payment," said Joni Orand, solutions consultant for quality, safety and compliance at symplr. "If you cannot demonstrate achievement of these targets, in the future there may be penalties."
Consumer demands have also changed the way healthcare providers think about expenses, with many patients seeking to pay medical bills retail style, from their mobile phones and iPads, like they would for items ordered off Amazon. Not only that, they also want to know prices for services ahead of time.