by
Lisa Chamoff
, Contributing Reporter | July 19, 2021
From the July 2021 issue of HealthCare Business News magazine
The COVID-19 pandemic continues to impact the healthcare market and the breast screening space in particular.
Equipment and software manufacturers are focusing on improvements to existing products or working on solutions to help their customers handle screening backlogs.
Companies are also developing technologies to help increase workflow and, in the case of one software maker, looking to breast imaging to provide insight into another deadly and costly healthcare problem: heart disease.
Here's a look at what's new in the last year from more than a dozen companies.
Canon Medical Systems
At the end of 2019, Canon Medical Systems introduced 24-megahertz transducers for the Aplio i700 and i800 ultrasound systems and a new 18-megahertz transducer for the Aplio a550 and a450 systems.
Last year, the company introduced FleXstyle, which enables easy sonographer adaptation and operational flexibility, with a programmable touch screen panel for tailored layout and electric lifting for easy up and down of the control panel. FleXstyle is available for all ultrasound imaging and allows for an intuitive workflow and better ergonomics for sonographers.
"Basically, the system becomes a chameleon and will work for you," said Tina Hodgson, senior manager of solutions marketing for ultrasound at Canon Medical Systems.
If a facility is transferring from another system to Canon, the hard keys can be changed.
"Muscle memory is a great thing," Hodgson said. "If you're used to having the button there, we can put the button there."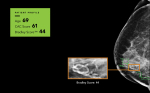 CureMetrix
CureMetrix is planning to seek FDA clearance for a new product that can assess a woman's risk of heart disease from the same mammogram used to identify breast cancer. The product, called cmAngio, looks for arterial calcifications, normally disregarded on a mammogram, that may show evidence of peripheral vascular disease.
Studies show breast arterial calcification is an indicator of cardiovascular disease. cmAngio calculates a Bradley score for the mammography report and a letter goes to the referring physician noting the patient's risk of developing heart disease, the leading cause of death for women in the United States.