Philips gets FDA green light for MX750 and MX850 patient monitors
by
John R. Fischer
, Senior Reporter | December 10, 2021
Patient Monitors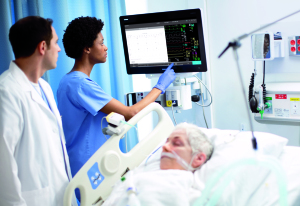 Scoring 510(k) clearance for its MX750 and MX850 patient monitors, Philips says its solutions will help hospitals standardize at a system level and are customizable for particular settings, both virtual and decentralized.

Initially cleared for Emergency Use Authorization in 2020, both devices are designed to help hospitals scale up operations and expand their acute care and monitoring capabilities. They are equipped with encryption technology for cyber protection and enhanced infection prevention capabilities.

The monitors provide full modularity and are interoperable with other devices and applications, including Philips' Patient Information Center iX and IntelliVue XDS software. This makes them capable of displaying critical patient information remotely or at the point-of-care.

"Clinicians can create rule-based alerts to detect changing conditions, then receive the benefits of the monitors' Advanced Event Surveillance features to lessen the cognitive burden and increase patient situational awareness. Interoperability with iPC helps to reduce cost and complexity of EMR connectivity, and can also enable remote monitoring when operated with Philips PICiX or IntelliVue XDS software," Sandra Lesenfants, general manager of hospital patient monitoring at Philips, told HCB News.

Data flow is seamless between both monitors and Philips Acute Care Telehealth command center. This simplifies clinical workflow and creates advanced clinical decision support, with information securely transferred to hospital EMRs through a continuous, end-to-end encryption. This helps to avoid virtually any gaps in patient records from admission to discharge, including during transport, and connects care from the ICU to the general ward and across care settings.

Additionally, both have a design that can withstand the strongest hospital-grade disinfectants to help reduce hospital-acquired infections without degrading the devices. What distinguishes them from one another is the Integrated PC (iPC) option available with the IntelliVue MX850. This expands clinical access to comprehensive patient information from sources such as Philips IntelliSpace Critical Care and Anesthesia (ICCA). Because the iPC uses a standard operating system, it is compatible within any IT environment, enabling access to clinical informatics solutions from across the hospital network.

The solutions obtained the CE mark in 2019 and are in use in hospitals across Europe. "In the ICU, conditions can change quickly, so having access to real-time data is important to ensure signs of deterioration are not missed," said Remko van den Akker, a registered nurse in the intensive care/critical care unit at Adrz Hospital in the Netherlands. "Philips' solutions have helped us to improve the link between essential patient data and our hospital patient data management system, and allow us to automatically and securely share data. This level of interoperability has been key for successfully managing our acute care patients."

You Must Be Logged In To Post A Comment
Registration is Free and Easy.
Enjoy the benefits of The World's Leading New & Used Medical Equipment Marketplace.
Register Now!