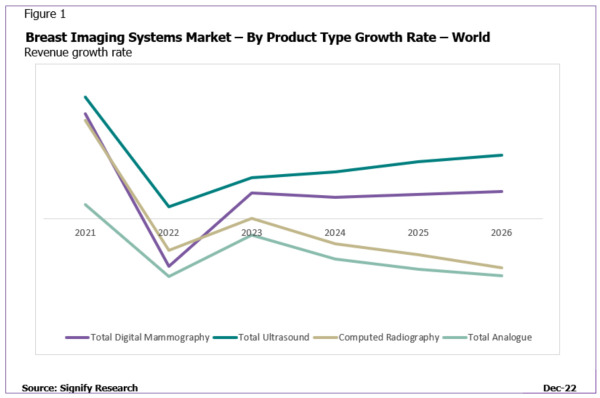 Regional and subregional trends
The top-level trends in the Breast Imaging market by region are as follows:
• Americas:
North America:
The U.S. is atypical in its widespread utilisation of DBT for screening. For this reason, along with Canada's intention to follow suit, the North American market will see weakening sales of 2D Full-field Digital Mammography (FFDM) in the coming years to the advantage of 3D DBT.
Latin America:
Remains a price-sensitive market: analog and computed radiography (CR) sales will continue to be significant by 2026. However, more advanced digital modalities will all gain market share, whereas these will experience less demand year-on-year.
• EMEA:
Western Europe:
The results of prominent trials and studies soon to be released will significantly influence how future screening programmes are designed in Western Europe. Several countries are using supplementary imaging modalities to support mammography and are now transitioning to risk-based profiles and DBT for screening. Thus, greater market fragmentation is observed in Western Europe than in North America.
Eastern Europe, Middle East, and Africa:
In Eastern Europe and the Middle East region, screening programmes are becoming increasingly prevalent. This contrasts with Africa and the Middle East, where financial constraints and the scarcity of facilities often prove prohibitive. An enduring market for analogue and CR systems in Africa makes it a highly fragmented region.
• Asia Pacific:
Except for Oceania and other developed economies in the region, formalised screening programmes are mostly absent in the Asia Pacific market. Automated breast ultrasound (ABUS) and new DBT systems (excluding upgrades) are among the fastest-growing modalities, with estimated CAGRs of 24.1% and 4.4%, respectively, from 2021 to 2026. Asia Pacific represents a substantial market for ultrasound sales due to having large demographics of eligible women with dense breasts.
The proliferation of breast AI
Considerable backlogs, as well as an increasing number of women eligible for breast cancer screening, have provided yet more reason to address the speed and efficacy of screening to detect cancerous lesions at the earliest stages possible. Accordingly, breast imaging AI will likely play a critical role in surmounting these issues by assisting with triage and second reads.