By 2026, the global market for Breast AI tools is estimated to generate approximately $200 million in revenue. While most of the market currently consists of breast AI tools for 2D mammography, tools for DBT will experience significantly faster growth over the coming years. In addition to the burgeoning demand for DBT systems, the slower rate at which the modality's scans can be read is another factor driving the high growth of DBT AI tools over the forecast period.
Hologic and iCAD accounted for almost three-quarters of the breast imaging AI market in 2021. Both vendors reported growth in their revenues from 2020, indicating a bounce-back from the Covid-19 pandemic.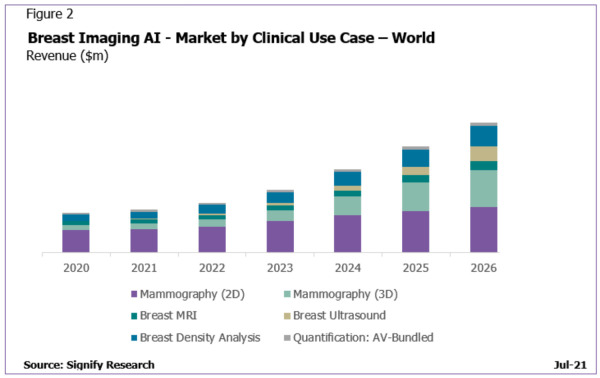 The competitive landscape for breast imaging vendors
Despite accounting for the largest share of revenues in the breast imaging market (greater than 40%), Hologic has had a trying year owing to semiconductor shortages. GE HealthCare and Siemens Healthineers, however, have reported strong growth through their respective DBT lines. Fujifilm's aggressive pricing strategy has helped it maintain its market position, performing particularly well in price-sensitive emerging markets.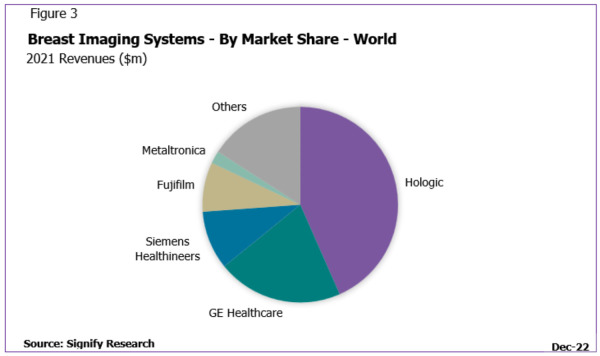 General market outlook
Market performance is expected to improve by the end of next year as semiconductor shortages gradually subside and measures to bring inflation under control increasingly bear fruit. As breast imaging vendors look to the years ahead, an initial recovery in 2023 should pave the way for sustained growth in most market segments in the medium to long term. In the medium term, the growing adoption of 3D mammography and AI tools will reshape the market landscape, short of completely transforming it; FFDM will remain the largest market segment by 2026. The planned guideline revisions for screening programmes in many countries will include younger women in national screening programmes, increasing the demand for mammography systems, particularly for DBT and FFDM. Risk-based screening is also a significant catalyst in the breast imaging landscape, providing an opportunity for AI vendors to develop supporting tools.