Payers can improve health equity in 2023 by investing in reaching members where they are, using a multichannel, tailored approach that goes beyond identifying members' preferred methods of communication and language. For example, rather than simply translating English materials into Spanish, plans should build trust with their members by taking into account their unique cultural backgrounds when crafting member communications. This will be especially important when the COVID-19 public health emergency (PHE) expires and up to 14 million people could lose Medicaid coverage following redetermination. By improving member engagement to reach the most under-resourced members, we can begin to end inequities and improve outcomes for the most vulnerable.
- Emad Rizk, MD, president and CEO of Cotiviti
This year, all eyes have been on pending health policy and legislative updates, such as the imminent public health emergency (PHE) expiration as well as Medicaid expansion in certain states Heading into 2023, I believe this will continue to be a major focus as we are inching toward an unprecedented time of Medicaid redetermination, further complicated in states with arcane lookback rules. For this reason, I think it is paramount to locate, reach, and educate the Medicaid community in different ways.
To combat the impending administrative tsunami of redetermination (an estimated 15 million people are at risk of losing Medicaid coverage once the PHE expires), we must employ a strategic combination of multichannel and digital communications to reach this population, many of whose members are less likely to have a permanent address and/or landline. This will ensure gaps in coverage stay to a minimum and people are aware of their coverage status and empowered to make the right care choices.
- Venkatgiri Vandali, president of Healthcare and Lifesciences, Firstsource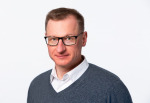 As we look ahead to 2023 and the increased adoption of FHIR APIs, healthcare delivery organizations should focus on easing the collection and exchange of data to better inform patient engagement efforts and to avoid burdening clinicians. A transparent and comprehensive understanding of every health record will only become a reality when patient engagement initiatives (like digital front door) and analytics-driven innovation rely on a core set of foundational data management capabilities.