by
Gus Iversen
, Editor in Chief | March 09, 2023
Radiopharmaceutical developer SpectronRx has completed initial construction of its Bunker Hill, Indiana medical isotope production facility, including installation of two new cyclotrons.
As part of its ongoing development and testing, the Indiana-based radiopharmaceutical contract development and manufacturing organization (CDMO) successfully produced low amounts of Actinium-225 (Ac-225), an emerging isotope with
unique potential in theranostics
for fighting cancer.
"Its half-life of just 10 days is appropriate for therapy and is ideal for production and distribution," John Zehner, CEO of SpectronRx, told HCB News. "It's not so radioactive that it loses its radioactivity before it can be used. And it is not radioactive for so long that it poses a significant health or waste challenge."

Quality remanufactured Certified Centrifuges at Great prices! Fully warranted and backed by a company you can trust! Call or click for a free quote today! www.Centrifugestore.com 800-457-7576

Because it emits alpha particles, (which Zehner likens to bowling balls, "destructive but unable to go too far"), Ac-225 can theoretically mount a powerful attack on cancer cells without damaging healthy tissue just a few cells away.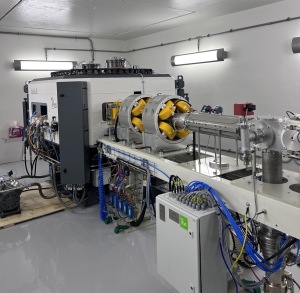 A strategic location
The completed Bunker Hill isotope production facility, which rests on a 10-acre site near Grissom Air Reserve Base that SpectronRx purchased in late 2021, features two interconnected buildings totaling 20,000 square feet. The company has initiated the acquisition of an additional 18,000 square feet at the site and plans to install more cyclotrons once development is finalized.
Looking ahead, SpectronRx aims to have more than 25 professionals working hand-in-hand with pharmaceutical companies and healthcare professionals from across the U.S. to produce radiopharmaceuticals. The strategic advantages that come from having a home base in Indiana are part of that plan.
"We have a great pool of technical talent that firms like Roche and Eli Lilly have helped build. We also have world-class colleges like Purdue and Notre Dame to partner with" Zehner said. "Secondly, our location allows us to serve several major cities, including Chicago, Cincinnati, Cleveland, Columbus, Detroit, Lexington, Louisville and St. Louis — all within a four-hour drive. Proximity to care centers is vital when it comes to getting these crucial isotopes to patients who need them."
SpectronRx has over 100 employees across four locations and provides services to organizations on six continents. In addition to the Bunker Hill facility, the company's U.S. operations include a 36,000-square-foot facility in South Bend, Indiana, and a 60,000-square-foot facility in Indianapolis, Indiana. Plans are in the works for an additional location in Connecticut.
"We've shown that we can now produce Ac-225 from Ra-226," Zehner said. "We irradiated Th-232 targets, processed the targets and demonstrated we could produce and process Ac-225. The next step is to ramp up production so that we can help fill the pipeline for this lifesaving medical isotope."
The multimillion-dollar project is expected to take 18 more months to complete.