ACR says USPSTF new breast screening guidelines a good start but could go farther
by
John R. Fischer
, Senior Reporter | May 11, 2023
Women's Health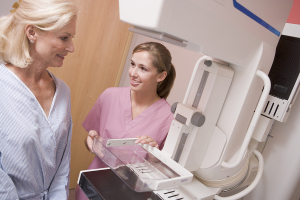 The American College of Radiology and Society of Breast Imaging say that the latest update in the United States Preventive Services Task Force's breast screening guidelines should go further.

According to USPSTF's recommendation, published on May 9 as a proposed update to its 2016 recommendations, women should start receiving biennial screenings at 40 instead of 50. It says, however, that there is insufficient evidence to validate screening in women over 74, as well as breast ultrasound or MR scanning in women with dense breasts who receive negative screening mammograms.

ACR and SBI say that they and other medical groups agree that annual screening saves most lives, and that biennial screenings risk giving cancer potentially another year to advance and spread, according to their 2021 guidelines for average-risk women and new 2023 guidelines for high-risk women.

They recommend that all women undergo risk assessments at 25 to determine if they should undergo more intensive screenings earlier than 40, particularly Black women, who have the highest rates of death and are 42% more likely than white women to die from breast cancer despite incidence rates being roughly equal, and Ashkenazi Jewish and other minority women, who are 127% more likely to die. They also say that women past 74 should continue screening, unless they have severe comorbidities that limit life expectancy,

"These evidence-based updates should spur more-informed doctor-patient conversations and help providers save more lives," said Dr. Debra Monticciolo, FACR, primary author of the new guidelines and division chief of breast imaging at Massachusetts General Hospital in Boston, in a statement.

In addition to a higher death rate, minority women are 72% more likely to be diagnosed with breast cancer, and 58% more likely to be diagnosed with it in advanced stages. Black women are less likely to be diagnosed with stage I breast cancer but still twice as likely to die from early cases. Black women also have a two-fold higher risk of aggressive, triple negative breast tumors and a greater chance of inheriting BRCA1 and BRCA2 genetic mutations.

ACR and SBI recommend MR surveillance for women with genetic increased risks, including BRCA1 carriers; those with a calculated lifetime risk of 20% or more; and those exposed to chest radiation at a young age. Depending on the type of risk, these women should start annual mammography at 25 to 40.

They also say annual supplemental screening should be performed on those diagnosed before 50, and with a personal history of breast cancer and dense breasts. High-risk women unable to undergo breast MR should talk to their doctors about contrast-enhanced mammography.

For male-to-female transgender people, ACR and SBI advise them to consult their doctors, as hormone use puts them at increased risk for breast cancer, and for female-to-male transgender people, to continue to receive screenings if they have not undergone mastectomies, as they remain at their previous risk level.

The USPSTF recommendation is not final, and will be available on the task force website for the public to comment on until June 5, along with a draft evidence review and draft modeling report.

ACR's and SBI's guidelines for high-risk women were published online May 3 in the Journal of the American College of Radiology (JACR).
You Must Be Logged In To Post A Comment
Registration is Free and Easy.
Enjoy the benefits of The World's Leading New & Used Medical Equipment Marketplace.
Register Now!