Complex Aneurysm Treated Using New Fenestrated Endograft Stent
by
Lynn Shapiro
, Writer | July 08, 2008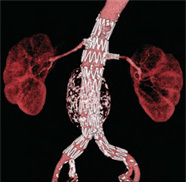 In an FDA trial earlier this month, a 93-year old Bronx man underwent implantation of a new stent graft at New York-Presbyterian Hospital, the only center on the Eastern Seaboard with access to this investigational device.

The graft is designed to treat a complex form of abdominal aortic aneurysm in which the weakened, enlarged vessel wall is too close to the arteries leading to the kidneys.

These complex aneurysms cannot be safely treated with currently available aortic stent grafts and would otherwise require major surgery. Without treatment, patients with aortic aneurysms are at risk for sudden death.

The unique device, known as a fenestrated endograft, is a tubular, fabric graft with supporting metal stents that has custom-positioned holes (fenestrations), which ensure proper blood flow through the aorta and to the kidneys and nearby organs.

The fenestrated endograft was placed through a small incision in the groin, into the patient's arteries replacing the enlarged blood vessel and allowing for the safe passage of blood to the lower extremities.

Because every patient's anatomy is slightly different, each Zenith Fenestrated AAA Endovascular Graft by Cook Medical is custom manufactured from a 3-D computer model based on a spiral CT scan of the patient.

"Until now, stenting these patients with a traditional endograft has been difficult or impossible. Since most of these patients are aged 70 or older, often with medical complications, open surgery is usually not an option," says lead surgeon Dr. James McKinsey, site chief of the Division of Vascular Surgery at New York-Presbyterian Hospital/Columbia University Medical Center.

He says that this new stent graft can give these patients a new lease on life.

While the fenestrated endograft procedure takes more time and skill than repair of standard aneurysms, there is not much difference for the patient, who can leave the hospital in a few days and return to normal activities in a week," says Dr. Angeliki Vouyouka, who performed the surgery alongside Dr. McKinsey. She is a vascular surgeon at New York-Presbyterian Hospital.

As with more common varieties of endovascular repair, advantages of the fenestrated endograft are expected to include less pain, fewer complications, reduced hospital stay and quicker recovery compared with open surgery.

Symptoms May Include Pulsing Feeling

Symptoms for abdominal aortic aneurysms may include a pulsing feeling in the abdomen or unexplained severe pain in the abdomen or lower back.

Often abdominal aortic aneurysms have no symptoms, so screening is very important, says Dr. McKinsey.

Any person aged 50 or older with a family history of abdominal aortic aneurysm, or anyone aged 65 years old with cardiovascular risk factors, should be screened by a vascular surgeon for the condition. Risk of abdominal aortic aneurysm increases with age, with an estimated 5 percent of men aged 60 and older diagnosed with the condition.