Standard Colonoscopy and Virtual Colonoscopy Both Work Well
by
Lynn Shapiro
, Writer | November 18, 2008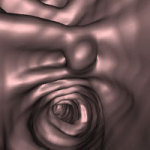 Dr. Elliot Arons, a gastroenterologist in New York City, told DOTMed News that people shouldn't worry about whether they have standard colonoscopies or virtual colonoscopies, because both work.

"Everything that can get patients in here for screening is a good thing," he said. "Smaller polyps might be missed by virtual colonoscopy, but those probably won't mean anything.

"If doctors find bigger polyps during a virtual exam, they will have to perform a standard colonoscopy to remove the polyps. If a patient has a standard colonoscopy and a polyups are found, they can be removed during the screening test. So it's either one stop shopping or two shop stopping," Dr. Arons said.

He added that the noninvasive method has actually increased the volume of people coming in for the screening test, but the biggest obstacle is that Medicare refuses to pay for it.

Colorectal cancer kills 52,00 people in the US, according to The American Cancer Society. Most Americans are told to begin having colonoscopies at age 50.

New England Journal of Medicine Study

A study showing that both techniques work equally well was published in the New Journal of Medicine on September 18. (N Engl J Med 2008;359;1207-1217)

Dr. Daniel Johnson of the Mayo Clinic in Scottsdale, AZ and colleagues did both virtual colonoscopies and standard colonoscopies on 2,500 volunteers. They found that the virtual technique, which uses an X-ray computed tomography or a CT scan, found 90 percent or precancerous polyps, which were 10 milligrams or larger.

Standard colonoscopies are performed by gastroenterologists using a flexible tube passed through the bowel. A device at the end of the tube can remove suspicious polyps immediately.

The advantage of a virtual colonoscopy, also known as CT colonography or CTC, is that there is no sedation, so patients can drive home themselves and return to their regular activities. There is also less of a chance that the bowel will be punctured.

Virtual colonoscopies can also be uncomfortable because doctors must inflate the bowel with carbon dioxide while the patient lies on a scanner, Dr. Arons says.