by
Robert Garment
, Executive Editor | December 03, 2008
The 94th Scientific Assembly and Annual Meeting of the Radiological Society of North America -- known to most folks simply as "RSNA 2008" -- proved yet again why it is the Super Bowl of the medical imaging equipment industry, as well as the premier educational venue for all things radiological.
The crowd, by this reporter's estimates, was as large as last year -- and perhaps even bigger. One reason it was hard to gauge crowd size was because one big new change for RSNA 2008 was the opening of a third major exhibit hall, the Lakeside Hall, an increase of 50% in floorspace. So instead of crowding into the two familiar North and South Halls, attendees spread out over three halls. We'll see what the final attendee count from the RSNA says in a few days for a definitive answer.
Regardless, every one of the major imaging OEMs had an exhibit there, with companies such as GE, Siemens, Philips and more building what can only be called "McMansion Displays," with all their hardware on parade. Companies such as Hologic, Agfa, McKesson, Hitachi, FujiFilm, Carestream, and Canon, among others, weren't far behind in the big-booth competition to attract attendees.
Of course, DOTmed.com had its more modest booth in its familiar "hot corner" right at the entrance to the North Hall, in Space #7802. Dozens of other DOTmed registered users had exhibits there as well.
The poor economy didn't seem to affect the mood of the crowds, and there was a buzz of activity in many aisles. Sean Ruck, DOTmed Business News Editor-in-Chief will be back soon and have more to report in next week's version of our Online News.
So for now, enjoy this photo-essay which will give you a feel for what it's like to be at the Big One, the 94th RSNA 2008...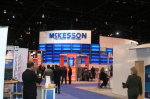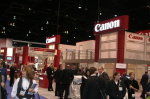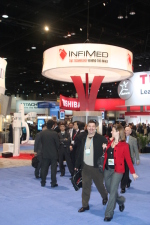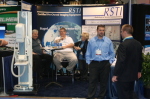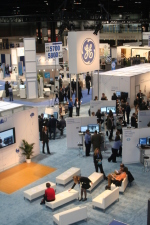 Back to HCB News