Times Are Tough, GE's CEO Reports, But the Company Remains Confident
by
Lynn Shapiro
, Writer | December 17, 2008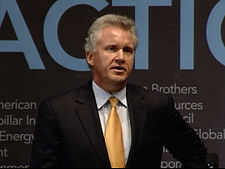 New York --Jeffrey Immelt, GE's Chairman and CEO, told securities analysts and investors Tuesday that the company had lowered profit projections for its industrial businesses, including medical equipment, jet engines and power turbines.

While Immelt said he would not provide analysts with an earnings forecast for next year, he said that overall profit at the Fairfield, CT-based conglomerate is expected to drop in 2009 for a second consecutive year. GE was forced to reduce its earnings projections several times in 2008, and its shares plunged 52 percent, partly in response to GE's continual earnings downgrades.

"While 2008 has been a challenging year for the global economy and for many of our businesses, we still expect to earn over $18 billion and outperform the S&P industrials and financial sectors," Immelt said.

He told analysts that GE had navigated the credit crisis and recession better than its peers and would benefit next year from its services businesses and declining materials costs.

"I'd say the environment is toughest for people of my generation. It's the toughest we have ever seen," Immelt said.

He said GE's revenue, estimated to be $185 billion this year, would drop as much as 5 percent next year as the company reduces its finance division, which has been caught in the credit crunch.

However, he said the company had no plans to sell the finance unit--GE Capital-- since the division loans money to customers of GE's industrial products.

Immelt also said GE would keep its annual dividend of $1.24 per share next year.

GE shares climbed 97 cents, or 5.7 percent to $17.92 on the New York Stock exchange Tuesday after Immelt's presentation, slightly beating the Dow Jones Industrial Average.

On a more upbeat note, Immelt told analysts that the company is focused on "growing organic revenue, reducing costs and expanding margins....We expect our major equipment and services backlog to remain strong in 2009 and we will expand our industrial margins, which already compare favorably to our competitors'," Immelt said. He added, "We are committed to investing in innovation and technology even in these challenging times. We will maintain our $1 billion investment in executive development and training and we have allocated $6 billion for technology in 2009."

Immelt said that because of the company's long-term investment in clean energy and healthcare, GE is well positioned to support governments around the world as they invest in infrastructure. In fact, Immelt said on Tuesday that GE had received a $3 billion order for gas turbines in Iraq to support the country's power-generating capability.

"We have multiple drivers of growth in a downturn, including services, infrastructure and strong margins," Immelt said. "We are committed to our strategy of growing globally, driving innovation, developing partnerships and using our scale. We are confident that as the economy recovers, GE will return to its historical earnings growth rate," Immelt said.