Ovarian Cancers Are Detected Using Ultrasound and a Blood Test
by
Lynn Shapiro
, Writer | March 12, 2009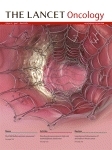 Physicians using ultrasound and the CA 125 blood test for finding cancer were able to catch ovarian cancer at its earliest stages, before it became deadly. The results are published in the April journal Lancet Oncology.

As there is no current good test for ovarian cancer, having a reliable screening test could save many lives, said study authors, Ian Jacobs and Usha Menon of the University College, London.

The trial included 200,000 postmenopausal women, some of whom used both tests, some who used ultrasound alone annually and the rest who received no screening at all.

Doctors who used both tests caught 90 percent of ovarian cancer cases, while they found 75 percent of the cases using ultrasound alone. About half of the cases were found in the early stage I or stage II phases, when ovarian cancer can often be cured.

Ovarian cancer is one of the most deadly cancers since its symptoms are so vague that doctors often miss the tumors until they have spread too far to resect. It was diagnosed in more than 21,000 women in the United States in 2008 and killed more than 15,000. In Britain it affects about 7,000 women a year and kills more than 4,000.