Patients Who Get Coronary Angiography After MI Are Twice as Likely to Survive
by
Lynn Shapiro
, Writer | April 01, 2009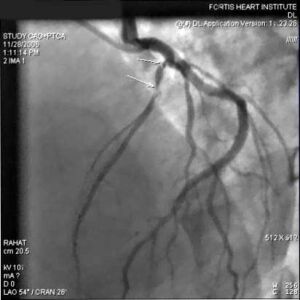 People who suffer cardiac arrests and then receive coronary angiography are twice as likely to survive without significant brain damage compared with those who don't have the procedure, according to a study by University of Pittsburgh School of Medicine researchers.

The study, to be published in the May/June issue of the Journal of Intensive Care Medicine and now available online, showed that patient outcomes improved with coronary angiography, an imaging procedure that shows how blood flows through the heart, regardless of certain clinical and demographic factors that influenced who received the procedure.

"Given the low odds of survival--about 6 percent--for patients who suffer out-of-hospital cardiac arrests, it's important to understand which treatments might make a difference in these dismal outcomes," noted Jon C. Rittenberger, M.D., corresponding author of the study and an assistant professor in the Department of Emergency Medicine at the University of Pittsburgh. The importance of prompt coronary angiography is well-established for cardiac arrest patients presenting with certain types of heart problems, Dr. Rittenberger noted. "But our study, which shows that angiography is independently associated with good neurologic outcomes, suggests that clinicians should consider the procedure for all post-cardiac arrest patients," he added.

Coronary angiography uses a contrast dye and X-rays to see the blood vessels and chambers of the heart. The procedure is usually done in conjunction with catheterization, which involves threading a thin hollow tube through an artery and into the heart. Dye is injected into the catheter and highlights any blockages in blood flow, which are then visible by X-ray.

The researchers retrospectively analyzed the charts of 241 adult cardiac arrest patients who were treated at UPMC Presbyterian Hospital, part of the University of Pittsburgh Medical Center, between January 1, 2005, and December 31, 2007. Coronary artery disease was present in 52 percent of the patients, and the rate did not differ between those who received coronary angiography (40 percent of the group) and those who did not. Those findings are consistent with prior research showing that 60 to 80 percent of cardiac arrests are a result of cardiovascular disease.

Just over half of patients who received coronary angiography experienced a good clinical outcome, defined as being discharged to home or to an acute rehabilitation facility, compared to 24.8 percent of patients who do not have the procedure. Early angiography, performed within 24 hours of a patient's arrival, was not associated with improved survival when compared to having the procedure done later, but researchers noted that the small number of patients may have made it impossible to prove a difference.