Edwards' Earnings More Than Triple Due to Catheter-based Valve
by
Lynn Shapiro
, Writer | April 28, 2009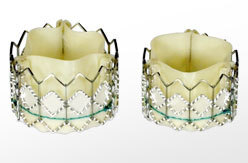 Edwards Life Sciences first-quarter net earnings more than tripled, due to an asset sale; and from snowballing revenues of its catheter-based heart valve, called the SAPIEN, which spares patients the need for open-heart surgery.

The valve is made from bovine pericardial tissue. Approved in Europe in 2007, it is undergoing a pivotal U.S. trial, with clearance expected in 2011.

If the SAPIEN wins approval, it would be the first valve of its kind to arrive on the U.S. market, although in Europe, it is competing with Corevalve, recently acquired by Medtronic. The minimally-invasive heart valve is a sought-after technology and other competitors are expected to jump into the game.

Shares of the company climbed 1.3 percent to $58.50 in after-hours trading Monday, after edging up 1.2 percent during the day.

The SAPIEN device totaled $53 million in sales last year and Edwards recently upped its sales forecast for the device. Sales are now expected to reach $100 million, up from Edwards' prior estimate of $75 million to $95 million in full-year sales.

Michael A. Mussallem, Edwards' chairman and chief executive, said that SAPIEN sales and continued sales in valves that require traditional heart surgery were major earnings contributors.

"We clearly believe that the market is getting bigger," Mussallem told investors during a conference call. He added he believes Edwards can double the number of procedures" conducted since last year.

The Irvine, CA-based company's first-quarter net income soared to $60.5 million, or $1.03 a share, from $18.2 million, or 31 cents a share, a year earlier. Net last year was affected by the sale of a stent product line to C.R. Bard. This year's earnings were helped by a $27 million gain from a milestone payment for one of its stents. Excluding these and other items, earnings were 70 cents a share in the latest quarter, compared with 56 cents a share a year ago, Edwards said. That was 1 cent above the consensus forecast among analysts surveyed by Thomson Reuters.

Sales climbed 5.6 percent to $313.5 million, hurt some by unfavorable foreign-currency rates and discontinued products. Analysts had projected sales of $309.4 million in the first quarter.

In Heart Valve Therapy, Edwards' largest business, sales climbed 16.2 percent to $170.4 million, with SAPIEN valves contributing $24.6 million.

In Critical Care, which includes devices to monitor the heart during surgery, sales fell 2.1 percent to $104.5 million. Edwards said it was impeded in this arena by "restrained capital spending in U.S. hospitals."

Cardiac Surgery Systems revenue jumped 5.1 percent to $22.5 million. Vascular sales fell 26.8 percent to $16.1 million, due mainly to the Bard sale.