CAD adoption up after Medicare coverage decision
by
Brendon Nafziger
, DOTmed News Associate Editor | June 15, 2010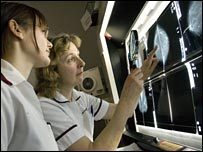 Medicare's decision to cover a popular but contested mammography aid is linked to high rates of adoption of the technology, according to a study looking at the complicated politics of congressional pressure, Medicare coverage and science.

Published Monday in the journal Archives of Internal Medicine, the article found the prevalence of using computer-aided detection for film screening mammography leapt from around 5 percent of Medicare-covered screening mammograms in 2001 to about 27 percent two years later, after Medicare decided to reimburse the procedure.

CMS chose to cover the application, which uses computer technology to help radiologists interpret mammograms to find cancers, after pressure from Congress, the authors said, even though the scientific evidence for its benefits is mixed, according to the authors.

"We're still a little bit in the dark about the balance of the benefits and harms of this technology, even nine years after the coverage decision," Dr. Joshua J. Fenton, lead investigator of the study and assistant professor of the department of family and community medicine at University of California, Davis, told DOTmed News.

According to the study's analysis, in 2003, Medicare reimbursed an extra $19.13 for each CAD procedure for film mammos over the base reimbursement rate of $85.65. The supplemental fees for CAD use cost Medicare an estimated $19.5 million in 2003, according to the study.

Fenton said with the extra reimbursements a radiologist could relatively rapidly make up for the cost of the equipment.

"This was a way they could recoup their investment on the tech very quickly, essentially about 5,000 mammograms to recoup upfront investment. Everything after that would be money in the bank," Fenton said.

Still, the study, an observational one, only shows Medicare coverage was correlated with technology adoption, not that it caused it. Increased awareness or better evidence for the effectiveness of the system could just as easily have driven radiologists to pick up the technology.

Also, it's not clear that radiologists actually benefit financially from using the system. At the time of the data for the study, in 2003, Medicare only reimbursed the use of CAD in film mammography, which can be time consuming for office staff, who have to feed film into a digitizer before the computer can run algorithms on it. Radiologists also have to spend extra time examining the CAD findings, which could reduce the number of exams a radiologists reads in a day, for instance, thereby cutting into their profits.