Nurses groups move to abolish manual patient lifting
by
Brendon Nafziger
, DOTmed News Associate Editor | September 08, 2010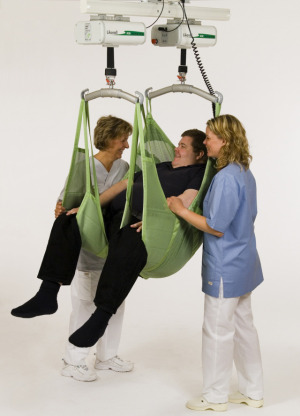 This report originally appeared in the August 2010 issue of DOTmed Business News

Lifting patients can be a pain - literally. Ergonomic studies carried out over the last three decades have found the exertion required for a nurse to move a patient or even reposition one in bed can, over time, lead to career-ending injuries to the shoulder, neck and lower back. One such study, led by Ohio State University ergonomics researcher W.S. Marras in 1999, found that even if two nurses moved around a relatively light, 110-pound patient, they exceeded safe compression and tolerance limits on their spines.

To make matters worse, today, most patients aren't 110 pounds.

"Over the years, the patients have gotten bigger," Kelly Moed, a nurse instructor at Staten Island University Hospital, says. "I started as a nurse in 1985, and there was no supersizing the meals. Now, we see supersized patients."

According to the Centers for Disease Control and Prevention's estimates, about one-third of Americans are clinically obese. That's compounded with a second challenge. As a nation, we're not just growing heavier, we're growing older. According to federal estimates, there were nearly 40 million Americans over 65 in 2008, accounting for 13 percent of the population. By 2030, when the last of the baby boomers mellows into old age, they could account for one-fifth of all Americans. And the number of oldest - those 85 and over - could grow from around 6 million in 2008 to 19 million by 2050. Out of that 19 million, it's a guarantee many will have limited mobility.

The fear of many nurses groups is that workplace injuries caused by lifting will worsen one of the profession's main challenges: the nursing shortage. Estimates vary for the scale of the problem, but the usually reliable Health Resources and Services Administration in 2006 projected the nation's nursing shortage would be more than one million nurses by 2020. As of 2007, there were about 135,000 vacancies in nursing, according to American Hospital Association estimates.

Nursing groups fears are not totally unfounded. Almost half of all nurses have contemplated leaving the profession because of its physical demands, according to a 2006 poll by Peter D. Hart Research Associates, Inc. And of the thousands of nurses who abandon their profession every year, about one in 10 cites a workplace injury as the reason for leaving, the American Nurses Association says.

These numbers are backed by injury rates provided by the federal government. According to their figures, nurses have among the highest rates of musculoskeletal injuries - the pulls, pains, bruises and breaks that make many of these health care professionals give up their careers. According to 2007 data from the Bureau of Labor, registered nurses came in fifth for overall musculoskeletal disorders requiring days off of work, while nursing aides, orderlies and attendants ranked second.