FDA panel asks Avid for more on florbetapir
by
Brendon Nafziger
, DOTmed News Associate Editor | January 21, 2011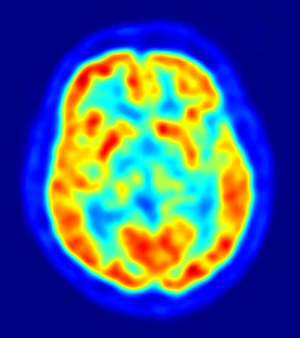 A U.S. Food and Drug Administration advisory panel conditionally approved florbetapir F18, a PET imaging agent that could help measure a biomarker for Alzheimer's disease.

In a two-part vote, the panel, meeting Thursday in Silver Spring, Md., told the FDA to approve the drug provided the manufacturer laid groundwork for a rigorous training program for nuclear medicine specialists and offered proof that it works.

If approved by the agency, the drug would be the first agent cleared for measuring plaque deposits linked with Alzheimer's in living patients, possibly giving clinicians a powerful new weapon in their fight against the disease.

The drug, dubbed Amyvid, lights up beta-amyloid deposits in the brain. It's made by Avid Radiopharmacueticals, which was bought last month for close to $300 million by pharma giant Eli Lilly and Company.

A phase 3 study reported in the Journal of the American Medical Association this week found the amount of plaque discovered in the PET scans using the agent matched up with later autopsy results from the same patients.

But FDA reviewers expressed concern about reader variability and training, noting that the three readers who scored the exams sometimes gave wildly inconsistent scores to the same patient -- with one person marked as having no plaque by one reader, and yet rated as having the highest amount by another.

Because of these worries, in the first panel vote Thursday, with no requirements for additional information from the drug maker, the panel advised against approval in a 3-13 vote. But the panel then voted unanimously to approve the drug if its conditions of a tough training program and reinterpretation of earlier exams were approved.

The panel's recommendations are not binding for the federal watchdog agency, but it usually follows them.

Avid seemed to welcome the news, with CEO Dr. Daniel M. Skovronsky saying he was "encouraged that they recommended a clear path toward approval."

The panel seemed to agree that the agent had the clinical utility claimed for it by its manufacturer.

The drug company says a negative reading on a PET scan using their agent would help clinicians rule out the presence of the plaque deposits associated with Alzheimer's disease. As one reviewer noted, a "positive" scan for the plaque deposits should be considered a "negative negative," and should not be seen to indicate an Alzheimer's diagnosis.

Although the group supported a training program, they stopped short of asking the FDA to demand certification before a radiologist could interpret the exams.

"Requiring competency for just one imaging agent seems almost ridiculous," Dr. Faaiza Mahmoud, a radiologist with the VA Maryland Healthcare System in Baltimore, said at the meeting. "It would be difficult to enforce, and most practices are going to say, 'I won't read them.'"

You Must Be Logged In To Post A Comment
Registration is Free and Easy.
Enjoy the benefits of The World's Leading New & Used Medical Equipment Marketplace.
Register Now!