by
Brendon Nafziger
, DOTmed News Associate Editor | July 14, 2011
MRI and CT scanners are usually rated for their cost, function and clinical utility. But at a gala event in Germany recently, a jury of design experts also took into account their less tangible, aesthetic qualities.
Siemens' hybrid PET-MR system, Toshiba's wide-bore 3-T MRI and Varian's newest radiation therapy units were among a handful of new capital equipment devices to pick up a 2011 Red Dot award for product design, one of design's most prestigious awards.
The winners of the contest, run by the Red Dot organization, were announced at a ceremony in Essen, Germany on July 4. About 1,200 people attended the show, Red Dot said.
Designers from 60 countries entered nearly 4,500 products into the competition, according to materials provided by Varian. Around 79 life science or medical devices earned awards for product design.
The winners were judged along nine criteria, including innovativeness, usability, ecological impact and their "emotional" and symbolic qualities.
That is, the devices were partly judged by their success as, in effect, formal compositions.
Soft, rounded lines
Siemens' Biograph mMR, the first joint PET-MR unit brought to the U.S. market, got points for having a "comparatively small and light appearance," according to Red Dot.
"Despite the fact that two large machines have become a single system, the device looks like a conventional magnetic resonance scanner," the award announcement said. "Soft, rounded lines convey a confidence-inspiring impression that may reduce patient anxiety prior to the examination."
The unit was designed both in-house at Siemens and by designaffairs GmbH, a German firm that last year picked up awards for Siemens' Somatom CT and Magnetom MRI scanners.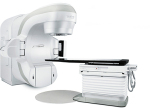 Varian Medical Systems' oncology-focused TrueBeam and radiosurgery-focused TrueBeam STX, two radiation therapy devices with C-shaped gantries, also won a design prize. In its award profile, Red Dot called out the systems' precision control features and a newly created modular cabinet that houses critical system components. The units were designed by BMW Group DesignworksUSA, a group that also snagged design awards this year for a brace of NeilPryde bicycles.