by
Olga Deshchenko
, DOTmed News Reporter | August 23, 2011
Minimally invasive procedures are quickly becoming the standard of care in hospitals nationwide, and surgical equipment manufacturers are well aware of the trend.
Many OEMs are enhancing current technology or launching new products to help OR staff perform procedures safer and faster and provide a high level of comfort for the patient.
Here's a look at some of the latest trends and products in OR tables, lights and microscopes.
In OR tables, versatility is key
The surgical tables market was valued at a little more than $170 million in 2010, according to the recent report, "U.S. Markets for Video and High-Tech Hardware Devices 2011" by the Millennium Research Group.
Low but steady growth in the sector is projected within the next few years, driven by a demand for specialty surgical tables. Manufacturers have come out with tables and accessories to address the specific goals of "increasing productivity, integrating with imaging equipment, and providing pressure management, greater versatility, and/or improved patient safety," according to the MRG report.
For Trumpf Medical Systems, business has been strong in the OR Systems table sector. The company invested a lot of effort in improving its products' communication and performance capabilities. It also enhanced the tilt and positioning functionality of its tables, according to Ted Daley, Trumpf's senior engineer, table systems.
Trumpf recently launched its TruSystem 7500 table in the United States. The table has numerous configuration possibilities and is equipped with quiet, precision motors and an open software architecture.
Another manufacturer Skytron, recently introduced its Elite 6300 surgical table with a fully radiolucent top and a 210-degree top rotation. It's also equipped with a removable leg section for image flexibility options, including a 40-inch carbon fiber extension.
Bill Wendt, Skytron's senior product manager, surgical tables, says the 6300 model encompasses many features of high-end surgical tables, but comes with a lower price tag. "It's an economical table but it still features everything [surgeons] need for the operating room," says Wendt.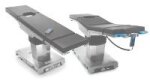 The most recent advanced table product from the Steris Corporation is the company's 5085 platform. The 5085 SRT Surgical Table is the world's first "crossover" table. "It slides, rotates and transports patients throughout the perioperative area, controlled by a single caregiver, with help from its unique drive wheel and pivot capability," Eric Wittine, director of marketing, surgical tables and case goods, told DOTmed News via e-mail.