by
Diana Bradley
, Staff Writer | December 28, 2011
From the December 2011 issue of HealthCare Business News magazine
"It all depends on how big the medical equipment is and where it's going from and to," said South. "There could be an instance where air is the most economical way to get it there, but in general terms, the most expensive way is to fly something."
With economy-burdened businesses unable to foot its arm-and-leg costs, the utilization of air transport has decreased 10 percent over the past few years, according to Brad Barenberg, vice president, national account sales, Craters & Freighters Global Logistics.

Carestream Health is a leading provider of quality X-ray systems and detectors that are designed to maximize diagnostic confidence, workflow and patient satisfaction. Follow the link above to see our complete portfolio of digital radiography solutions.

"At one time, fuel surcharges for international air freight became higher than the actual air freight charges," Barenberg told DOTmed News.
For domestic moves, it's almost always better to transport bulky, sophisticated and fragile medical equipment in a truck, according to Stratton.
"If the piece can be moved via truck, it's better because it reduces the amount of moving; for example, there is no need to move equipment from the lab to the truck to the plane, back to the truck," said Stratton.
On the other side of the pond
When transporting medical equipment internationally, complicated logistics need to be settled. MoveIt's Partridge advises sellers to read up on International Commercial terms so that they do not enter into a business deal they may have no way of settling. Buyers should get in touch with a local customs office to get requirements on products they are bringing in to avoid paying unexpected duties, taxes or other administrative fees.
The biggest challenge with international freightage is obtaining an accurate description of the equipment for export classification purposes, according to Stratton. In many cases, manufacturers and hospitals have to obtain special codes and permissions on their own, prior to the move. Companies like Holman assist them with this process, but Stratton stressed that communication is critical.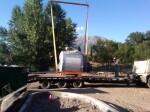 "It's important that we ask a lot of questions because customers aren't always knowledgeable enough about international shipping and the regulations at destinations to connect all the dots," he said.
When transporting equipment internationally, regulations naturally vary country to country.