From the December 2011 issue of HealthCare Business News magazine
This story originally appeared in the December 2011 issue of DOTmed Business News
Every year, health care professionals receive recognition from industry associations and societies for their contribution to the field. This year, DOTmed News has rounded up award recipients from a variety of sources to provide a retrospective of the year's best.
AORN Award for Excellence in Perioperative Nursing: William Duffy
The Award for Excellence in Perioperative Nursing was established to recognize a registered nurse, whose accomplishments in the areas of practice, education and research in the specialty of perioperative nursing, reflect the ultimate goal of excellence in patient care. This award is the highest honor bestowed by AORN.
William Duffy, MJ, RN, CNORMr. Duffy is the Vice President for Nursing at Evanston Hospital, which is part of North Shore University Health System. He received his BSN from Loyola University (Chicago) and his Masters of Jurisprudence in Health Law from Loyola's School of Law. While serving as President of AORN (2004-2005), Duffy led the association's initiative for National Time Out Day to eliminate wrong site surgery. Duffy has spoken nationally and internationally on health law and leadership topics in addition to being an accomplished author of many articles. Duffy received AORN's Outstanding Achievement in Perioperative Management Award in 1998; Nursing Spectrum's award for Excellence in Advancing the Profession in 2006; and Loyola University's School of Nursing Distinguished Alumnae Award in 2010. He is a firm believer in the power of nurses to touch the lives of their patients and to shape the future of health care.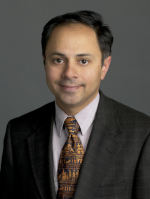 SNM 2011 Georg Charles de Hevesy Nuclear Pioneer Award: Sanjiv Sam Gambhir
SNM has given the de Hevesy Award every year since 1960 to honor groundbreaking work in the field of nuclear medicine. The award's namesake received the 1943 Nobel Prize in chemistry for his work in determining the absorption, distribution, metabolism and elimination of radioactive compounds in the human body. His work led to the foundation of nuclear medicine as a tool for diagnosis and therapy and he is considered the father of nuclear medicine.