From the August 2012 issue of DOTmed HealthCare Business News magazine
"You must take power distribution systems and get them up above flood levels," Yarbrough advises.
If it is not possible to raise equipment, Ochsner creates dikes and houses equipment in waterproof facilities.
Story Continues Below Advertisement
As a Master Distributor for major brands Barco, Philips, and Sony, we offer custom imaging solutions. With our renowned OEM Solutions and Service/Repair Center, Ampronix is a one-stop shop for HD Medical LCD Displays--Printers--Recorders--4K Cameras
Avoiding a record-breaking disaster
The key to protecting patient data during a disaster is to have appropriate safeguards in place at all times. When not in use, paper records should be locked up and electronic data should always be secure, encrypted, and backed-up each day, according to Nancy Dean, VP of compliance, privacy and internal audit at NYU Langone.
"It's also important to make sure staff has been properly trained regarding patient data security so they remember the importance of handling and securing data during a disaster," says Dean. "If data is compromised in such an event, it's important to respond to the breach as quickly as possible and to mitigate the effects by offering identity theft protection services and letting individuals know what has happened so they can be on alert and take extra precautions, such as checking credit reports and reviewing all medical bills and explanation of benefits."
For some health care facilities, it might be wise to have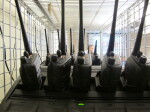 commercial data centers in two or three different locations in the country managing and storing patient data in the cloud for backup purposes, recommends SourceHOV HealthSERVE Radiology Inc.'s Ron DiMuro, VP of technology services. DiMuro's company provides enterprise class vendor neutral archive solutions, providing secure storage at commercial data centers in Atlanta and Dallas.
"Let's say you are a three-hospital system in a state, and that state and backup data center are in the same region," he says. "All the data could possibly be destroyed depending on the magnitude of the disaster."
A similar company, OffSite Image Management Inc., stores all data in non-proprietary DICOM format, allowing customers to access their data from anywhere, even if the local PACS server is not available.
"Anything can happen to cause disaster or failure; your system might simply decide to hit the brick wall, a busted toilet line could fry a server, or someone could even drive a car through your building because they got the accelerator confused with the brake," says the company's president and CEO, Lasha Dalakishvili. "We don't just want to protect and store your data. But we want to provide facilities with 24/7 access and full control over their information."
| | | | |
| --- | --- | --- | --- |
| << | Pages: 1 - 2 - 3 - 4 - 5 - 6 | >> | |