GPS-style system could cut X-ray dose for heart patients
by
Brendon Nafziger
, DOTmed News Associate Editor | October 08, 2012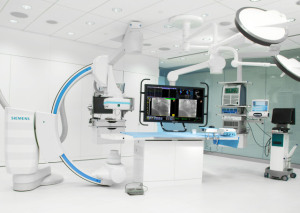 St. Jude Medical Systems said Monday that it launched a new tracking technology that could cut X-ray dose to patients undergoing heart procedures.

The global positioning system-style technology, called MediGuide, lets doctors track catheters or other devices in a patient's body using recorded fluoroscopic images in place of live X-rays for part of the procedure, potentially cutting the radiation dose to both patient and provider.

"This technology has the potential to minimize that (dose) to less than 10 percent of what we're currently using," Dr. D.J. Lakkireddy, an electrophysiologist at the University of Kansas Hospital, the site of the first U.S. installation, said in a video created by the hospital.

A typical catheter angiography procedure delivers a total effective dose of about 10 millisieverts, or 50 times that of a chest X-ray, according to a 2007 article in the journal Heart. But the dose varies widely: according to material on St. Jude's website, complex interventional fluroscopy procedures, such as cardiac ablation, can expose patients to as much as 70 mSv, equivalent to about 3,500 chest X-rays. (By comparison, the average annual background radiation in the United States is about 3 mSv a year, according to RadiologyInfo.com.)

The St. Jude system has two parts: a magnetic tracker attached to the tip of a catheter or other device inserted into the patients' arteries, and a scanner positioned over the patient that picks up the location of the device and can superimpose it over a recorded fluoroscopic image.

Using a patient reference sensor and reading an ECG signal, the system also makes automatic real-time adjustments to this final image gated to cardiac motion and breathing, a St. Jude spokeswoman told DOTmed News by e-mail.

St. Jude said products enabled to work with MediGuide include the Livewire diagnostic catheter, its CPS Excel guide wire and an outer-catheter. The technology works with the Artis zee angiography systems sold by Siemens Healthcare, St. Jude said.

MediGuide received Food and Drug Administration clearance in 2009, a spokeswoman said. It's also approved for sale in Europe.

In the video, Lakkireddy said his hospital was using it at first for simpler cases but would later expand to more complex ablation procedures performed at the institution.

You can watch that video here:



You Must Be Logged In To Post A Comment
Registration is Free and Easy.
Enjoy the benefits of The World's Leading New & Used Medical Equipment Marketplace.
Register Now!