Will friendlier imaging rooms make patients happier?
by
Brendon Nafziger
, DOTmed News Associate Editor | November 06, 2012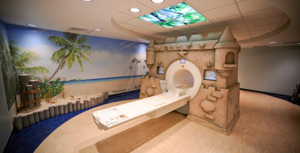 A nervous child enters a room for her CT scan and sees something strange: the scanner resembles a giant sandcastle, with the walls and floor made to look like a sunny beach.

It's not a hallucination. The set-up is one of several offered by Siemens Healthcare in a new product it calls "ImageScapes", a program to design imaging rooms and the equipment inside in a way that helps patients — of all ages — have a more comfortable experience during imaging procedures.

Patients first

The new offering is a direct result of the growing importance of tending to patient satisfaction, Siemens says. The reasons are twofold: Siemens says its customers are facing stiff competition from rival imaging centers and hospitals, and patient satisfaction in hospitals, as measured by the 27-question HCAHPS survey given on discharge, is now affecting Medicare reimbursement under the value-based purchasing model. In other words, the customer is king.

"If patients have a better, more pleasant experience, they are likely to tell others about it, which can help health care providers set themselves apart in their local markets," Gerhard Schmiedel, vice president of X-ray products at Siemens, told DOTmed News.

From scanner to room

The Malvern, Pa.-based U.S. health care division of the German conglomerate says the program was developed in partnership with Dream Think Imagine, an Asheville, N.C.-based "environmental theming" company that creates the room concepts.

Siemens said it doesn't comment on pricing, but the offering is meant to be scalable. Customers can get a cover for the gantry of a CT or MRI scanner, up to full decorations of the imaging room or department. Siemens' brochure for the product shows what can be done: an imaginary women's health clinic houses its mammogram unit amidst wainscoting and tasteful watercolors, while a pediatric department has a CT scanner covered in cartoon circus animals.

Tracey Dennewitz, Siemens' senior director of accessory solutions, said ImageScapes would only be available in the U.S., for now, although the company is "evaluating" bringing it overseas. He said Siemens plans to offer it to both new equipment buyers and its existing customers.

The patient satisfaction trend

Naturally, Siemens is not the only OEM looking at making imaging rooms and machines more patient-friendly. For the past few years, its rival Philips Healthcare said it has offered the Ambient Experience, using soothing lighting and décor to ease patients, while for children the company provides a small replica scanner called a KittenScanner (in which kids can pretend-scan toys) to get comfortable with a potentially scary piece of technology. Philips said on Monday that it signed an agreement to install 20 Ambient suites in a new hospital complex in Jordan, the most ever for a single installation.

Although the ImageSpace is new, Siemens said it has worked with patient-comforting products before. Its Mammomat mammography unit, for instance, has mood lighting, and Schmiedel said the company has heard positive feedback from customers about it. But no ImageScapes have been installed yet, so the company said it didn't have any data on what kind of effect to see on patient satisfaction.

"Our expectation is it's a positive influence on the patient and staff," Schmiedel said.

For its part, Philips said in a recent release that an in-house customer survey of 100 Ambient Experience users outside the United States last year found a 76 percent increase in staff satisfaction and a 3-minute an hour decrease in procedure time.

You Must Be Logged In To Post A Comment
Registration is Free and Easy.
Enjoy the benefits of The World's Leading New & Used Medical Equipment Marketplace.
Register Now!