RSNA 2012: Siemens to release first wireless ultrasound
by
Brendon Nafziger
, DOTmed News Associate Editor | November 25, 2012
DOTmed RSNA 2012 Coverage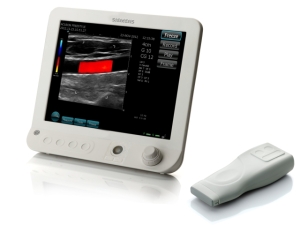 Siemens Healthcare hopes to add to its list of firsts in the field of ultrasonography next year with the launch of what it says is the first wireless ultrasound system ever developed.

In 1953, Siemens technology helped record the first echocardiogram. In 1983, Acuson (acquired by Siemens in 2000) released the 128 XP, the first ultrasound to process images on a computer.

Now this Sunday at the Radiological Society of North America's annual meeting in Chicago, the German conglomerate will unveil a system that features a wireless transducer that the company says could make it easier for providers to perform scans during operations or in other sterile environments.

The system, called Acuson Freestyle, lacks the cable all ultrasounds have that connects the scanning probe to the machine and which, the company said, can become contaminated during surgeries or get in the way of doctors. Siemens said it's marketing the technology for interventional radiology, operating rooms, anesthesia practices and emergency rooms — essentially, places where sterility is an issue.

"The cable can be a huge problem in keeping the field sterile," Jeffrey Bundy, the CEO of Siemens Healthcare's ultrasound business unit, told DOTmed News by phone.

The wireless transducer can be kept sterile by covering it with a replaceable sheath or by processing it between procedures, he said. Also, by being freed from a cable, the probe could be easier to move and cause less strain for the user, he said.

Developed by Penrith

The technology for the wireless system was developed by Penrith Corp., a company Siemens bought in August. At the time, Siemens wouldn't divulge why it bought the company but notably Penrith had previously filed patents for wireless ultrasound devices.

Bundy said Penrith already developed a working system that received Food and Drug clearance on Nov. 19, 2010. Siemens said it was in the process of swapping the approval to the new system to be released under their brand, which they hoped to have completed before RSNA.

"(Penrith) completed external clinical testing in a number of clinical sites around the world in the environment and with the applications that we'll be talking about," Bundy said.

Battery life and wireless specs

The transducer's rechargeable battery lasts for about 90 minutes of total scanning time. The system also comes with a spare battery pack that recharges at a charging station on the back of the system while the other one's working. "They're doing procedures just a couple of minutes long and turning the system off," Bundy said. "The whole point of these procedures is to get them done as quickly as possible."

You Must Be Logged In To Post A Comment
Registration is Free and Easy.
Enjoy the benefits of The World's Leading New & Used Medical Equipment Marketplace.
Register Now!