CT/MRI Installed-Base Data - Find and Buy Equipment For Less
14,500+ hospitals and imaging centers with over 10,000 MRI systems and 12,000 CT scanners identified and updated annually
-Quickly and easily find imaging facilities that currently use specific CT and MRI scanners
-Identify older/newer CT and MRI systems by year of installation
-Update your database of key radiology decision makers
-Save time and reduce equipment acquisition costs!
Is finding the right equipment at a good price challenging? Let
Radiology Data Corporation
help. Our phone-verified databases contain information on over 22,000 CT and MRI scanners installed in the U.S.
An indispensable marketing resource
.
Custom Research Available
- Expert phone research to help you quickly identify sales opportunities and generate revenue. Past projects have included identifying upcoming equipment purchases and service contract details/expiration dates.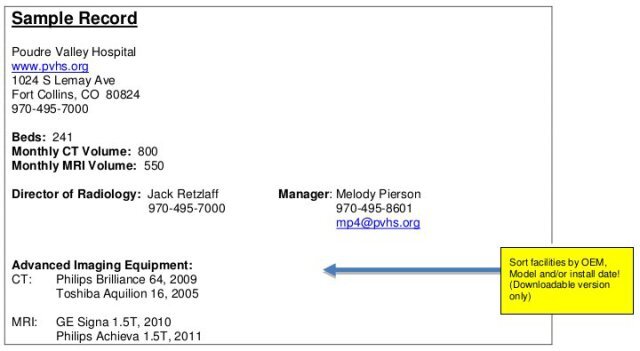 Call or email
Dave Ramsey
at 303.941.4457 for licensing details.