ASTRO 2013: Five big ideas from Atlanta
by
Nancy Ryerson
, Staff Writer | September 26, 2013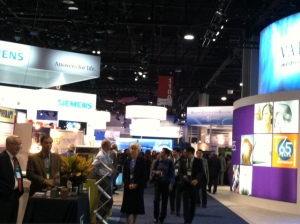 At ASTRO 2013, equipment wasn't so much the star of the show, like it may have been in past years. Instead, companies focused on smoothing out operations with software updates and finding ways to bring cutting-edge equipment to the little guy.

As for radiation oncologists and researchers, they brought attention to the patient side, especially on how radiation oncologists can do a better job of looking beyond survival and toward better quality of life.

Overall, the show celebrated all the advances it's made in the last 55 years while looking toward a future that more patients and physicians can participate in. With that in mind, these are the five themes we found. (But please let us know in the comments section what the standouts were for you).

1. Imaging for treatment planning steps up its game

Radiation therapy is about more than the therapy itself. Imaging companies, like Siemens and Philips, showed their CT and MRI pieces decked out in radiation therapy accessories to assist in treatment planning.

Philips is even working on an MRI-linac fusion with Elekta. While no date has been set for its release, the project is a top priority for the company, said Falko Busse, general manager for MR therapy at Philips.

GE Healthcare has also focused its attention on MRI for radiation therapy planning. "Now, 85 percent of centers are using MRI for treatment planning," said Paul Anderson. "And for a quarter of those sites, it's their primary imaging choice."

2. Not just technology for technology's sake

As radiation therapy has matured, some manufacturers have slowed down constant technology updates, instead honing details like workflow.

"This year, we heard from customers that they wanted us to slow down and focus on what's important, like patient care, efficiency, effectiveness and versatility," said Kelly Londy, chief commercial officer at Accuray. "It's not just technology for the sake of technology."

In addition to a software update, the company also introduced updates to its service contract, another way of pleasing current customers and providing a smoother experience.

3. The right treatment for the right disease (including new approaches to skin cancer)

New Choosing Wisely guidelines for radiation therapy showed that every technology isn't ideal for every disease. The society said, for example, that proton therapy should only be used to treat prostate cancer within a clinical trial setting, and clarified a common confusion between two types of therapy commonly used in treating breast cancer.

You Must Be Logged In To Post A Comment
Registration is Free and Easy.
Enjoy the benefits of The World's Leading New & Used Medical Equipment Marketplace.
Register Now!