by
Loren Bonner
, DOTmed News Online Editor | November 18, 2013
From the November 2013 issue of HealthCare Business News magazine
NYU Langone Medical Center lost several pieces of imaging equipment
when Hurricane Sandy hit New York City one year ago. But as Dr. Michael Recht, chair of the department of radiology at NYU Langone Medical Center points out, they did not lose any people. For Recht, the crisis only reinforced the ideas he's put into place in designing a radiology department for the future: In order to utilize technology more efficiently, people need to be utilized more efficiently.
Working smarter
"We all know in radiology that people are doing more all the time and that trend will continue. But one of the ways to deal with that is to do what you do more efficiently," says Recht.

Carestream Health is a leading provider of quality X-ray systems and detectors that are designed to maximize diagnostic confidence, workflow and patient satisfaction. Follow the link above to see our complete portfolio of digital radiography solutions.

He believes strongly that every employee in a radiology department should be a part of the discussion when developing ways to improve processes. "It's important to bring everyone together and ask how they would change their day-to-day operations," says Recht.
Hurricane Sandy left NYU Langone with only two functioning CT scanners instead of three. Coincidently, right around the time the hurricane hit, Recht had begun working with staff to put several process improvements in place. In fact, he didn't eliminate any workers when they lost the third scanner; he just took any extra people and changed their job functions.
"We wondered how we would survive but we have survived better than we did before," says Recht.
For example, getting patients in and out of the scanner normally takes much longer than the actual scan time, which can be done in a matter of seconds. Recht said that by using more staff the department was able reduce the amount of time for each exam.
Improving efficiency also meant working with other departments outside of radiology. At NYU, Recht wanted to see the backlog for pediatric anesthesia for MRI decrease. Before they started working on a process improvement in this area, the waiting list for outpatient pediatric anesthesia in non-emergency cases was 45 days. By including the anesthesia department and even escort personnel in the conversation, they were able to schedule patients early in the morning and reduce wait times down to 3-5 days for non-urgent cases.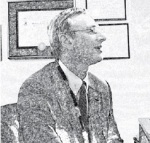 Into the light
In a changing health care environment where specialists will be valued less so than they have been, radiologists will need to become more visible to referring physicians, says Recht. One way this can be established is through what he calls "virtual radiology rounds," where a question will pop up on an image — in the ICU for example — asking the provider if they want to consult with a radiologist. An instant message conversation follows and in no time at all, both groups are discussing the image via a secure web conference portal.