Male breast cancer patients 49% more likely to undergo mastectomy
by
Nancy Ryerson
, Staff Writer | November 04, 2013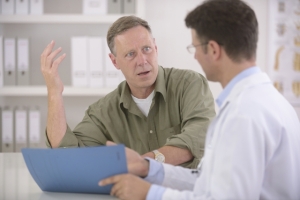 Men with breast cancer are far more likely to undergo mastectomy than female patients at the same disease stage, according to the largest-ever study of male breast cancer treatment.

University of Colorado Cancer Center researchers looked at 4,276 cases of male breast cancer and 718,587 cases of female breast cancer, and found that 87 percent of men compared with only 38 percent of women underwent a mastectomy for early-stage disease. Both sexes had the same survival outcome.

Because male breast cancer makes up only 0.6 percent of all breast cancers, little research has been done on how the disease is treated in men compared with women. There generally are not enough patients to form a useful clinical trial, so the University of Colorado researchers looked at information from the US Surveillance, Epidemiology and End Results (SEER) Program database. Since 1973, SEER has collected cancer statistics on tumor type, demographics, treatment and outcome information.

Investigator Dr. Rachel Rabinovitch said the results suggest that mastectomy is definitely over-utilized in men, a trend she predicted might soon change.

"Traditionally, breast conservation is not even considered for men with breast cancer. But in a world in which a man's appearance is increasingly important, and where it is common for men to be seen without a shirt in the gym or on the beach, mastectomy has overlooked psycho-sexual impacts on men, just as in women," Rabinovitch told the Colorado Cancer Blog.

The research also suggested that radiation therapy may not be used often in men with locally advanced breast cancer, in which the cancer has become a large tumor mass or has metastasized to the surrounding chest wall, nearby skin or the underarm lymph nodes. The SEER results found that while 45 percent of women with locally advanced breast cancer are treated with radiation therapy, only 34 percent of males got the same treatment.

Rabinovitch hopes her research will help oncologists consider breast-conserving therapies, including radiation, for men as often as they do for women.

You Must Be Logged In To Post A Comment
Registration is Free and Easy.
Enjoy the benefits of The World's Leading New & Used Medical Equipment Marketplace.
Register Now!