3-D marker allows for faster, better breast cancer radiotherapy
by
John W. Mitchell
, Senior Correspondent | November 03, 2016
Rad Oncology
Radiation Therapy
Women's Health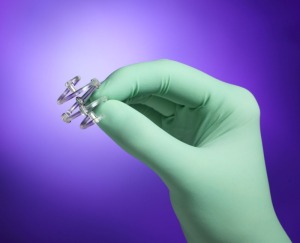 A bioabsorbable, three-dimensional marker implanted in a breast tumor bed reduces the amount of radiation that normal and surrounding tissue receives — as well as the length of radiation treatments — resulting in better outcomes.

"I have been doing breast conservation surgery for many years, and the worst part for patients often relates to the radiation required after surgery," Dr. Michael Cross, founder and medical director at the Breast Treatment Center in Fayetteville, AR, told HCB News. "When I first learned there was a new device to help target radiation, that could be used, and that there was potential for a shorter course of treatment with better targeting, I became really interested in trying the device on my patients."

The BioZorb marker is an implantable, bioabsorbable framework mounted with six titanium clips. The framework is slowly absorbed by the body in about a year. The remaining chips allow a three-dimensional view via imaging such as mammography.

Cross implanted the device in 108 women, average age 63, with early stage breast cancer over three years. The BioZorb device is sutured in place during lumpectomy surgery, allowing the surgeon to more precisely indicate to the radiation oncologist where the cancer was located.

"Once I started using the device routinely, we noticed the outcomes on our patients were much, much better and the radiation oncologists were able to transition to a shorter course of radiation known as hypofractionation," explained Cross. "The device helped to facilitate this by providing a more accurate method of targeting for radiation planning and delivery."

According to Cross, BioZorb permits hypofractionated radiation treatment with confidence, in the majority of patients. This means 21 days of radiation treatment, compared to 34 days (about a 60 percent reduction) currently required with standard whole breast irradiation.

"A lot of our patients travel back and forth quite a distance from home every day for their radiation treatment, some of them driving as much as 150 miles each way," said Cross. "So if their treatment is shorter, that's a very significant benefit to patients. It means less time away from family and work."

The biomarker also enables a technique known as "reconstructive lumpectomy", which improves the cosmetic appearance of the breast. Cross said this results in less swelling and fewer deformities among patients treated with BioZorb. He is planning a follow-up study on the cosmetic aspect of the treatment.

"In the end, I think the device will help to lower health care costs, primarily through making it easier to do a shorter course of hypofractionated radiation. While it's too early to say definitively, we are also seeing generally fewer complications and, as of three years out, no cancer recurrences have been seen in our study group," said Cross.

The results of his three-year research were published in the most recent issue of World Journal of Surgery.
You Must Be Logged In To Post A Comment
Registration is Free and Easy.
Enjoy the benefits of The World's Leading New & Used Medical Equipment Marketplace.
Register Now!