by
Lisa Chamoff
, Contributing Reporter | December 09, 2016
From the December 2016 issue of HealthCare Business News magazine
High interest in current Technology
While there is a demand for current technology in a mobile environment, equipment providers say facilities do need to work around budgetary constraints. "For CTs, we don't provide anything less than a 16-slice count system," Koers says. "We've found a 16-slice system is still adequate for most short-term projects, while the lower slice count systems are outdated.
While the OEMs are offering new systems with higher and higher slice counts, the mobile CT market tops out at around the 64-slice count level, as a 64-slice count system is still adequate for most trauma centers and other facilities that need a high slice count system in a mobile lab. NEMA XR-29 compliant systems are also in high demand, to meet the new dose reduction standards." Jim Varcarolis, senior vice president and general manager of the mobile division at Insight Health Corporation, says the industry offers a mix of technology, operating with the most current software applications available from the OEMs, to meet the various needs of its customers.

Quest Imaging Solutions provides all major brands of surgical c-arms (new and refurbished) and carries a large inventory for purchase or rent. With over 20 years in the medical equipment business we can help you fulfill your equipment needs

"It's important to have a mix of products available to suit the needs of the customer according to what services and specialties the customer provides, from small rural facilities to large teaching hospitals, to systems involved in research grants," Varcarolis says. Mobile equipment companies also allow facilities to test out equipment before purchasing, but Varcarolis says "rent to buy" is not currently a big trend. "Rent-to-buy may become more prevalent in the upcoming years, as customers look to upgrade technology in cost-effective ways, and as technology 'leaps' slow down in certain modalities," Varcarolis says.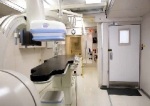 Prepping and environmental Issues
Hospitals need to make sure they make the correct preparations for delivery of the mobile equipment, and that it's protected from environmental issues, and the equipment companies can help with that. Prepping a site is largely dependent on what is being delivered, says Schmidt of DMS. "Generally, a flat, stable surface is required," Schmidt says. "It's helpful to have access to power and water, but not necessary. In many cases, there needs to be easy access to the hospital or facility that we're there to serve."