Diagnosing radiologist burnout and prescribing the right changes to cure it
by
John W. Mitchell
, Senior Correspondent | December 02, 2016
RSNA
X-Ray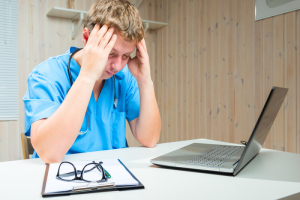 Some studies suggest radiologists may be among the unhappiest of physician specialists, with as many as 10 in 26 suffering burnout. This, despite other studies that show radiologists are in the top five for physician income.

"Money is not everything," said Dr. Richard Gunderman, chancellor professor of radiology and philosophy (among several areas of academics) at Indiana University, one of three experts addressing this issue at a Tuesday morning RSNA session.

Radiologists may be at special risk due to the nature of their work. They often work alone — even remotely — and are judged on how many reads they accomplish in a day. According to Gunderman, this plays into several characteristics of burn out: a lack of peer community, lack of control, and a perceived unfair workload. These in turn are some of the root causes of cynicism and inefficacy – or a perceived lack of power.

"This creates a gap in ideals about why we became physicians and it feels like it's not our idea of good medicine," Gunderman said. "Our time is limited, we want to make a difference."

He said that in his opinion, some of the biggest contributions to burnout are treating the characteristics of success – such as wealth, power and honor – as ends, rather than the byproduct of a life and work that has meaning. Radiologists should not define themselves, he advised, by the number of pages in their CV.

"Most people think they are unhappy because they can't get what they want," he shared. "But people are unhappy because they don't know what they want. Anxiety and depression are trying to tell us something about ourselves we don't understand."

The good news, he said, is that radiologists are good at diagnosis and the solution to burn out is a diagnostic solution.

The second speaker, Dr. Norman Beauchamp, Jr., dean of the College of Human Medicine at Michigan State University, offered a range of strategies radiologists could use to examine what they want from their lives and careers. He shared his own struggle with burnout and fear early in his career.

"Insecurity doesn't make you weak, it makes you human," Beauchamp said. "So begin with the end in mind – what makes sense and what makes you feel proud?"

Even though he noted that stress could be positive, he is a believer in the notion that we see what we know. Insight to how we view our world is critical to happiness – the natural antidote to burn out.

Among his strategies were:

- Seek out mentors and learn from others who have sense of joy about them.
- Build a team and be generous with credit for the team members. Do not fear adding team members who may have better skills than you.

You Must Be Logged In To Post A Comment
Registration is Free and Easy.
Enjoy the benefits of The World's Leading New & Used Medical Equipment Marketplace.
Register Now!