Unique image-guided probe lights up tumors to help surgeons operate better
by
John W. Mitchell
, Senior Correspondent | December 28, 2016
Rad Oncology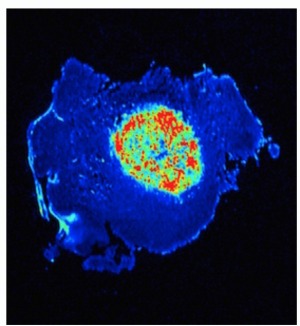 Researchers at UT Southwestern Medical Center think their latest invention can help light the way toward better survival rates and quality of life for cancer surgery patients.

In a new study, researchers report they have successfully deployed a "transistor-like pH nanoprobe" that stays dark when exposed to normal tissue, but "turns on like a light" when it reaches solid tumors.

The transistor-like device was invented to help improve a surgeon's ability to visualize cancer, Jinming Gao, Ph.D., professor of Oncology, Pharmacology and Otolaryngology at UT Southwestern Medical Center, told HCB News. Their study, which was conducted in mice, has just been published in Nature Biomedical Engineering.

"Dr. Sumner is a head and neck surgeon and is frequently hampered with the lack of clear visualization during cancer surgery," said Gao.

He explained that for the past 10 years he and Dr. Sumner have teamed up to find a solution to this problem. Gao is a polymer chemist and bioengineer who developed the fluorescent nanoprobe. The light-imaging probe delineates tumor margins using pH signal to allow Dr. Sumner to more accurately resect a tumor and better preserve normal surrounding tissue.

"We invented a nanoprobe [that], when injected intravenously into mice with tumors, stays dark during blood circulation but switches on in cancerous tumors for illuminating them," explained Gao. "The switch-like on/off behavior of the nanoprobe is what is unique."

According to Gao, cancer acidity is nearly universal, whether in mice or humans. He said most medications and biological agents do not work in an all-or-nothing manner, that human biology is the "squishy science" of shades of gray.

"Our nanoprobe takes those shades of gray and transforms them into a black or white, all-or-nothing output for tumor margin delineation," Gao added.

The device is innovative as it helps supplement complex pattern recognition that surgeons develop from experience to distinguish between tumors and normal tissue, he explained. More accurate removal of a tumor and preservation of surrounding tissue could be very beneficial, for example, in reducing side effects in patients after rectal cancer surgery.

"The final decision, however, is binary; to remove or not remove tissue," said Gao. "To help with that decision an imaging agent must minimize ambiguous signals. The demonstration of the value of that binary response, is an exciting and tremendously important step for image guided surgery."

The image-guided nanoprobe — which is scheduled to start human trials in 2017 — may also potentially assist radiologists to help reduce "false rates" in imaging, as well as assist cancer researchers with noninvasive monitoring of drug responses.
You Must Be Logged In To Post A Comment
Registration is Free and Easy.
Enjoy the benefits of The World's Leading New & Used Medical Equipment Marketplace.
Register Now!