by
Lisa Chamoff
, Contributing Reporter | April 28, 2017
From the April 2017 issue of HealthCare Business News magazine
In August, the company introduced the OEC Elite MiniView, also with a CMOS flat-panel detector. The mini C-arm is meant for use in hand and foot surgeries. Because it has a low dose, the Elite Mini-View can be used in an office environment, as the dose level may not require a shielded room, Strauch says. Improvements include one lock button, instead of several different locks, when a physician places a patient's hand or foot directly on the detector. "Sometimes it's just thinking through the challenges with our customers," Strauch says.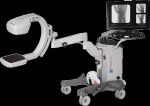 OrthoScan
The company is promoting the second edition of its OrthoScan FD Pulse, launched in early 2015. It's the first and only mini C-arm with pulse fluoroscopy, says Travis Prikryl, vice president of surgical sales for OrthoScan, with the option of 30, 15 and 7 ½ pulses per second. Other features include a 24-inch monitor and surgical LED lights under the tube-head. Instead of adjusting the room lighting, clinicians can use the LED lights, reducing the shadow effect of the tubehead, Prikryl says.
The model has the company's Generation 5 CMOS detector, which Prikryl says is 25 to 30 percent larger than anything available in a mini C-arm, used for extremity surgery. The company touts the FD Pulse's pulse generator, which Prikryl says allows it to emit the lowest radiation of a mini C-arm. "That's a big driver for a lot of radiology departments and ORs," Prikryl says.
"They're looking to lower the radiation on the patients and staff on a daily basis." OrthoScan's FD-OR mini C-arm, also with a flat-panel detector, was released in 2012. "The key differences in the two models are a smaller detector and continuous fluoroscopy for the FD-OR versus pulsed fluoroscopy, and pricing for the FD Pulse, which is marketed to larger facilities. The company no longer manufactures new image intensifiers. "Eighty to 90 percent of sales are driven to the higher-end product," Prikryl says.
Philips Healthcare