by
Lisa Chamoff
, Contributing Reporter | April 28, 2017
From the April 2017 issue of HealthCare Business News magazine
While Philips Healthcare has not released a new mobile C-arm in the last year, it offers three products in the space. The company's Veradius Unity C-arm provides the ability to store previous positions and comes with a tablet-like user interface that allows users to draw on the touch-screen with a finger or stylus. Philips' BV Pulsera mobile C arm is an interventional radiology tool that can be used for a range of procedures, including cardiac interventions. The BV Vectra is aimed at orthopedic surgical procedures, including trauma and pain management. The company says the C-arm, with its depth and angulation reach, is easy to maneuver and to use with both small and large patients.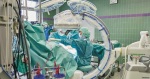 Siemens Healthineers
In March 2016, Siemens Healthineers received FDA clearance for its Cios Fusion, Cios Connect and Cios Select mobile Carm systems. They are lower-priced alternatives to the company's ultra-premium Cios Alpha mobile C-arm, Siemens' first flat-panel detector C-arm, which was cleared by the FDA in 2014. The Fusion, like the Alpha, has flat-panel detectors, as well as a touch-screen system.
"With a tableside remote, the surgeon has complete control of the C-arm in a sterile field," says Lisa Reid, product manager for mobile C-arms at Siemens Healthineers. The Cios Connect and Select are image intensifier systems, with a redesigned user interface that has some high-end functions, Reid says. The Connect includes extra features, such as vascular options and wireless transfer of images, making it an ideal fit for general surgery, orthopedics and some vascular procedures, while the Select works for smaller environments, such as pain management clinics.
"A lot of customers are looking for flat-panel detectors specifically because of image quality and they're looking for the latest technology," Reid says, noting that C-arms with flat-panel detectors provide better image resolution and a full field of view, and deliver less radiation than an image intensifier. "But we still have part of the market that's looking for a lower-cost system."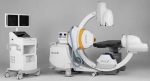 Whale Imaging