The global orthopedic surgical robots market was worth $100.5 million in 2016 and is expected to climb to $687.2 million by 2021, according to a new Technavio market report. Hip and knee replacements are two of the major drivers of the market.
In 2016, knee surgery accounted for about 72 percent of the global market's revenue. That's expected to increase during the forecast period due to the prevalence of deteriorated joints and musculoskeletal disorders like osteoarthritis and degenerative hip disease among the elderly population.
Story Continues Below Advertisement
iMS combines the superior service of Oakworks Medical and advanced manufacturing technology of FAMED Medical Solutions. The goal of iMS, "Connecting Art and Medical Science" goes way beyond product with exceptional CareLink service. Contact us today!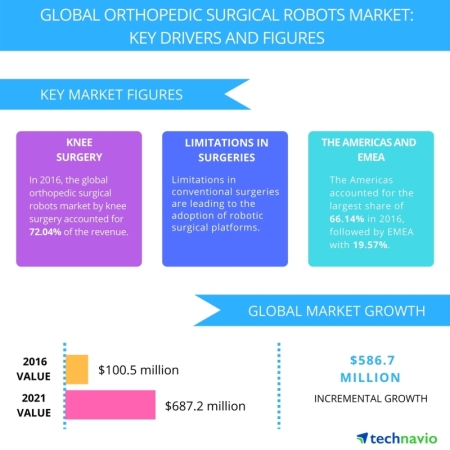 Limitations in conventional surgeries are leading many facilities to purchase robotic surgical platforms. Minimally-invasive surgeries are now becoming a preferred procedure in the orthopedic field, with arthroscopy being the most common procedure.
MIS are also being performed for joint replacements, to realign bone extremities and to reconstruct fractured bones. The market report predicts that minimally-invasive spinal surgeries for stabilizing spinal joints and vertebral discs will start to gain traction.
"Vendors in the market are expected to capitalize on the preference for MIS procedures by investing in R&D and offering products such as orthopedic surgical robots, which will contribute to the growth of the burgeoning market," Bharath Kanniappan, a lead analyst from Technavio, said in a statement.
Companies that want to get into the surgical robot field are entering strategic collaborations with other companies that offer unique surgical technology features. For example, Smith & Nephew acquired Blue Belt Holdings in October 2015 to secure a position in the developing orthopedic surgical robots market.
Factors that threaten market growth are the lack of awareness that these products exist and insufficient clinical evidence supporting the use of surgical robots in orthopedic surgeries. As a result, vendors are making efforts to form partnerships with hospitals to market their products.
More specifically, they are targeting hospitals and ambulatory surgery centers that offer specialized orthopedic programs, and have surgeons and other staff that have an interest in investing in improving their orthopedic care.
Back to HCB News