Mayo Clinic and MRI Interventions announced on Thursday, a partnership to design, develop and commercialize MR-guided, minimally-invasive therapies for stroke patients, with an initial focus on intracerebral hemorrhage.
The initial MR-guided product will build on MRI Interventions' ClearPoint Neuro Navigation System. The company believes that the system's intra-procedural visualization capabilities would create a "powerful foundation for minimally-invasive therapies to treat ICH."
Story Continues Below Advertisement
As a Master Distributor for major brands Barco, Philips, and Sony, we offer custom imaging solutions. With our renowned OEM Solutions and Service/Repair Center, Ampronix is a one-stop shop for HD Medical LCD Displays--Printers--Recorders--4K Cameras
The system is
designed to provide stereotactic guidance
for the planning and operating stages of neurological procedures. These procedures can be performed in a hospital's existing MR suite and can be used with both 1.5T and 3T MR scanners.
There are approximately 40,000 to 67,000 cases of ICH in the U.S. per year, according to
a 2012 study
published in
Emergency Medicine Clinics of North America.
The 30-day mortality rate ranges from 35 percent to 52 percent with only 20 percent of survivors expected to have full-functional recovery at six months.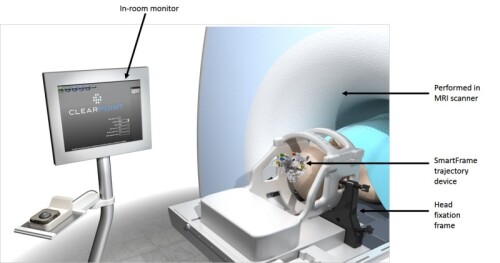 The ClearPoint Neuro Navigation System received FDA clearance in 2010 and is utilized by more than 40 leading institutions in the U.S. In June, 2016,
a study presented
at the 20th International Congress of Parkinson's Disease and Movement Disorders found that the system helped successfully deliver the gene therapy, VY-AADC01.
Last Wednesday, Mayo Clinic announced a
collaboration with Owlstone Medical
to develop a pre-endoscopic test to improve the effectiveness of colonoscopy.
Mayo Clinic has acknowledged a financial interest in the MR-guided product it's developing with MRI Interventions and said it will use any revenue it receives from the project to support its not-for-profit mission in patient care, education and research.