by
Lauren Dubinsky
, Senior Reporter | July 20, 2017
Researchers in Seoul created a surgical glue for minimally-invasive and image-guided procedures that's been proven to be adherent and visible with fluoroscopy, ultrasound and CT.
Tissue adhesives are starting to replace sutures and surgical staples for procedures such as bleeding embolization, angioplasty, stent insertion and biopsy. As a result, surgical glues are in high demand at medical clinics.
A team of researchers at the Center for Nanoparticle Research, and physicians at Seoul National University Hospital, designed nanoparticles with a shell made of silica (SiO2) because it holds the tissue together. The nanoparticles' core is made of radiopaque tantalum oxide (TaOx), which provides enhancement on ultrasound and CT.

Carestream Health is a leading provider of quality X-ray systems and detectors that are designed to maximize diagnostic confidence, workflow and patient satisfaction. Follow the link above to see our complete portfolio of digital radiography solutions.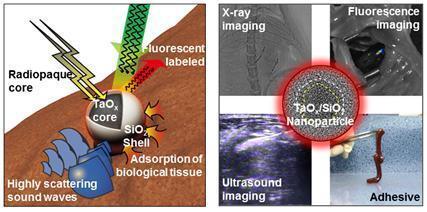 Many surgical procedures require the liver to be punctured, including liver biopsy, percutaneous biliary drainage, portal vein embolization and portal vein angioplasty, and hemostasis is needed to stop the bleeding.
The research team was able to successfully use the TaOx/ SiO2 core/shell nanoparticle (TSN) glue to seal a puncture in the liver of a rabbit.
The TSN glue's properties were shown to be similar to the FDA-approved cyanoacrylate and Lipiodol (CA-Lp), which is a combination of a tissue adhesive and radiopaque oil. However, TSN is more biocompatible than CA-Lp, which means it's associated with fewer side effects.
More specifically, CA-Lp can trigger an immune reaction within three days of the operation and inflammation after 14-65 days. Experiments have shown that TSN doesn't show any adverse effects after 56 days.
TSNs can also target accurately during movement because they are strongly fixed to tissues so that the nanoparticles and tissues move in unison. When TSNs were injected in a rat's thigh and calf muscles, they didn't move even when the leg was flexed.
HYEON Taeghwan, director of the IBS Center for Nanoparticle Research, stated that this is important because TSNs could help surgeons recognize a moving surgical target and perform a safe and accurate operation.
Taeghwan and the rest of the team uncovered that TSN is also stable in the lungs, which is one of the organs that moves the most. A fluorescent version of TSN visible under CT was successfully used to guide the resection of lung cancer in a rat because its opacity was high enough to be distinguished from the nearby ribs and vertebrae.
Back to HCB News