Rep. Scalise credits interventional radiology with saving his life after shooting
by
John W. Mitchell
, Senior Correspondent | November 09, 2017
Operating Room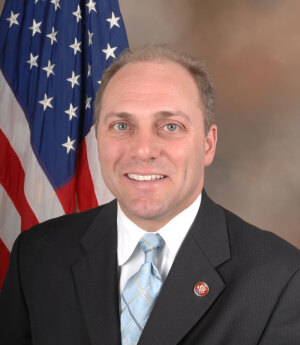 In an event that brought health care and politics together in harmony on capitol hill, the Society of Interventional Radiology (SIR) held a panel discussion Wednesday to celebrate the role of interventional radiology in saving the lives of trauma victims.

"It's good to be here, it's good to be anywhere … I'm definitely alive because of the great work of the trauma surgeons and Dr. Kahn [an interventional radiologist]" Rep. Steve Scalise from Louisiana and the House Majority Whip told the audience.

The damage from his gunshot wound inflicted by an attacker June 14 at a congressional softball practice in Alexandria, Va. was still evident. He used two canes to walk to the head table.

"By the time I got to the MedStar Trauma Center I was in pretty bad shape," he recounted. "Zero blood pressure, and I had lost just about all my blood…"

Rep. Mia Love opened the session with a review of her pending legislation to increase specialized medical training programs, including targeting trauma care needed in rural and underserved areas. The Wednesday event was sponsored by SIR to promote the International Day of Radiology, which this year is focusing on the role of radiology in trauma care.

Also present were two interventional radiologists and a trauma surgeon who worked to save Rep. Scalise. Arshad A. Khan, M.D., FSIR, Senior Interventional radiology and staff physician at MedStar Washington Hospital Center likened interventional radiologists to MacGyver, which elicited a laugh from the audience.

"Give us any surgical instrument, and we'll think of a way to use it in interventional radiology," he joked

Dr. Khan went on to explain how interventional radiologists work with the trauma team to find and stop bleeding with image-guided catheters. Interventional trauma radiology uses pinhole access through the wrist and groin. Dr. Kahn performed such a procedure on Rep. Scalise.

"Interventional radiologists play an important part on the trauma team because we can stop bleeding quickly with a technique called embolization, which relies on interventional radiologists' skills using image guidance and our knowledge of the human vascular system," he told HCB News. "We introduce a clotting agent — it could be a gel, beads, foam or coils — to block the blood flow. Embolization helps stabilize the patient, so the surgeons can do their job and repair the other damage."

The president of SIR, Dr. Suresh Vedantham, FSIR, said that he hopes the event will raise awareness about interventional radiology and how it saves the lives of trauma patients. He said that Rep. Love's bill would help create more interventional radiologists to expand such trauma care.

According to Dr. Vedantham, interventional radiologists have been delivering innovative minimally-invasive care to patients in need since the 1960s. But interventional radiology only obtained status as a primary specialty in 2012, and the first residency program was established in 2016.

"[Interventional radiology's] potential to drive future medical innovation that improves public health is astounding, but largely untapped, and this has attracted many more trainees to our new residency program than we have slots," he told HCB News.
You Must Be Logged In To Post A Comment
Registration is Free and Easy.
Enjoy the benefits of The World's Leading New & Used Medical Equipment Marketplace.
Register Now!