GE and ENDRA extend agreement to advance liver ultrasound
by
John W. Mitchell
, Senior Correspondent | February 07, 2018
Ultrasound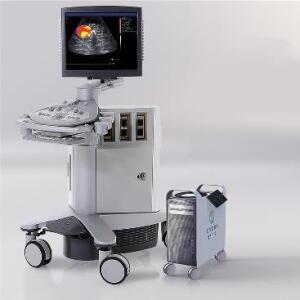 The increasing worldwide incidence of liver disease, driven by obesity, diabetes and hepatitis, is pushing imaging companies to develop new technology for earlier diagnosis. ENDRA has renewed an agreement with GE Healthcare to continue work on a standard CT application.

"Over one billion people are affected by fatty liver disease (NAFLD), which can progress to inflammation (NASH), then fibrosis scarring, then cirrhosis or cell death and then to cancer," Francois Michelon, CEO at ENDRA Life Sciences told HCB News. "There are no practical tools for diagnosing NAFLD and NASH."

To remedy this, EDRA has developed Thermo Acoustic Enhanced Ultrasound (TAEUS) that will enable standard ultrasound to detect such liver diseases in the early stage, while it is still reversible. Currently, the company said, ultrasound can only indicate liver diseases in the late stages.

ENDRA and GE Healthcare are working to deploy the technology in Europe by the end of 2018. Michelon said the expected cost of the unit would be about $40,000.

"We believe that ENDRA's technology has the potential to bring significant new capabilities to ultrasound - which aligns well with GE Healthcare's mission of increasing access to high-quality, cost-effective health care," said Brian McEathron, GE Healthcare's vice president and general manager for General Imaging Ultrasound. "We're very excited about completing the final steps toward commercialization of ENDRA's TAEUS fatty liver product."

Michelon said TAUES is safer and more economical than other standard protocols. MR/CT technology, he noted, is expensive to acquire at between $1-3 million. Surgical biopsy is another alternative, but the procedure is also expensive, painful and carries the risk of complications. And blood liver enzyme level testing is unreliable he said, with about half of all NAFLD patients testing normal.

"The key benefit of ENDRA's technology is that it leverages conventional ultrasound, which is widely accepted as safe, cost-effective, easy-to-use, and broadly available. This broadens access to better health care," said Michelon.

TAEUS will also offer more widespread diagnostic testing for liver disease, according to Michelon. Physicians will gain a new, cost-effective, and safe tool to address the growing crisis of liver disease. They will be able to deliver better health care to more people in clinics, community hospitals, private practices, patient bedsides – wherever ultrasound is used.

"By diagnosing NAFLD earlier on ultrasound, insurers will start reducing downstream costs of advanced liver disease, such as expensive inpatient care and liver transplants, as well as avoid costs of more expensive diagnostic tools such as CT and MR," said Michelon.

ENDRA is also developing several other software applications to enhance ultrasound. This includes an application to indicate tissue temperature with ultrasound during energy-based surgeries to treat cancer and heart conditions.

You Must Be Logged In To Post A Comment
Registration is Free and Easy.
Enjoy the benefits of The World's Leading New & Used Medical Equipment Marketplace.
Register Now!