by
Lisa Chamoff
, Contributing Reporter | November 19, 2018
From the November 2018 issue of HealthCare Business News magazine
Mintert said the system follows the trend of combination rooms in the era of value-based care and acknowledges the continued use of fluoroscopy.
"Now, more than ever, hospitals are looking to improve outcomes and reduce costs as a part of the shift to value-based care, and combination rooms enable space to be better utilized at a lower cost," Mintert said. "Today, fluoroscopy is still a must-have in hospitals, and an aging population and increase in chronic conditions means the number of stroke patients will continue to grow. Fluoroscopy is seen as the gold standard of care for these patients and related research, playing a key role in stroke swallow studies, speech pathology studies, and endoscopic retrograde cholangio-pancreatography procedures. Additionally, the dose levels associated with modern fluoroscopy units are much lower and are often preferred over CT for pediatrics."

Carestream Health is a leading provider of quality X-ray systems and detectors that are designed to maximize diagnostic confidence, workflow and patient satisfaction. Follow the link above to see our complete portfolio of digital radiography solutions.

ProxiDiagnost N90 also allows radiologists to work close to the patient, making them more comfortable in an effort to improve the patient experience, Mintert said.
Additionally, a user interface that is identical to other Philips systems and the ability to share mobile detectors makes training and the rotation of staff easier, Mintert said.
Rayence
Last summer, Rayence released its Rayence 1417 Wireless Series Detector, a 14-inch-by-17-inch cesium ion flat panel detector. Earlier this year, it also debuted the Rayence 1012 Wireless Series Detector, a 10-inch-by-12-inch detector for extremity imaging, and the Rayence 1717 Wireless Series Detector, a 17-inch-by-17-inch detector for wide-angle imaging.
"The majority of hospitals like a larger detector," said Stalin Calvache, marketing manager for Rayence.
Calvache said the Rayence stands out among its competitors for being the manufacturer of its detectors, with resolution of 140 and 127 microns.
"The majority of our competition is buying from other vendors," said Calvache, who notes they have sold more than 25,000 detectors worldwide.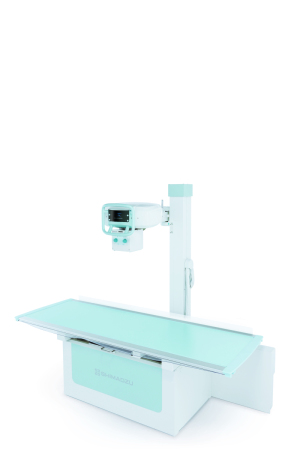 Shimadzu