by
Lisa Chamoff
, Contributing Reporter | November 19, 2018
From the November 2018 issue of HealthCare Business News magazine
"The detectors include our high-sensitivity technologies of the D-EVO II and are compatible with Fujifilm's Dynamic Visualization II and Virtual Grid image processing software," Fabrizio said.
The detectors also feature a new mini power box option, which the company says simplifies installation and costs. The power box maintains battery charging for extended use by providing plug-in power while in the bucky tray.

Carestream Health is a leading provider of quality X-ray systems and detectors that are designed to maximize diagnostic confidence, workflow and patient satisfaction. Follow the link above to see our complete portfolio of digital radiography solutions.

The retrofit market is slowing down, but there are still a lot of hospitals that haven't completely converted to DR yet.
"There's a lot of pent-up demand for this," Fabrizio said, "mostly due to its being more affordable for environments that don't need all the bells and whistles of a premium detector."
GE Healthcare
GE Healthcare recently announced the release of its Discovery XR656 HD, a fixed radiography room powered by its new Helix advanced image processing software, and also its Optima XR240amx for mobile radiography. Both use GE's new Flashpad HD wireless digital detector.
The detector has a resolution of 100 microns, which the company says is the highest available on the market.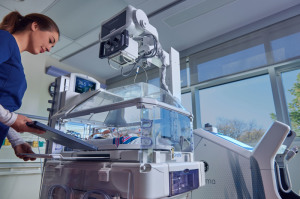 "With 100 microns, you get four times the resolution," said Chiranjiv Singh, chief marketing officer for X-ray at GE Healthcare.
The company is also launching the Discovery RF180, a remote combination X-ray and fluoroscopy room.
"Traditionally, the classical rooms have the technologist or interventional radiologist leading the procedures being next to the table," Singh said. "In a remote system, it operates more like a cath lab or a surgical suite, where they're behind a lead-lined wall."
Singh said the major advantage of a remote room is less dose for the operator and the ability to use it as a multipurpose room for all exams.
"The younger radiologists are more concerned about their exposure to the radiation dose and prefer a remote system," Singh said.
While the overall fluoroscopy market is stagnant, Singh said the market for digital fluoroscopy is growing by double digits.
Konica Minolta Healthcare
In early May, the company launched REALISM, image processing software that optimizes bone and overlapping soft tissue image data independently within the same image, which the company says can reduce the need for post processing.