by
Lisa Chamoff
, Contributing Reporter | November 19, 2018
From the November 2018 issue of HealthCare Business News magazine
"REALISM delivers a new level of clarity and detail in X-ray imaging that improves the sharpness of fine details, enhances visibility of hard to penetrate structures, and delivers excellent visibility of high contrast images," said Steven Eisner, senior product manager for Konica Minolta Healthcare. "This translates to the ability to generate more information with fewer exposures per exam as well as avoid the need to retake images due to poor image quality."
Eisner said the approach also reveals subtle details in even the most demanding views.

Carestream Health is a leading provider of quality X-ray systems and detectors that are designed to maximize diagnostic confidence, workflow and patient satisfaction. Follow the link above to see our complete portfolio of digital radiography solutions.

"Initial results demonstrate that REALISM provides better detail in all vertebrae, including C7 in a lateral C-spine exam, greater tissue detail in abdominal views, sharper trabecular patterns and bony cortex, and improved representation of orthopedic implants with clearer bone interfaces," Eisner said. "There is also significant improvement in the visualization of small parts with REALISM."
REALISM can also help reduce overall patient dose by enabling fewer retakes and views, Eisner said. Hospitals are seeking to lower a patient's overall exposure to radiation, not just in CT imaging but also for X-ray and angiography.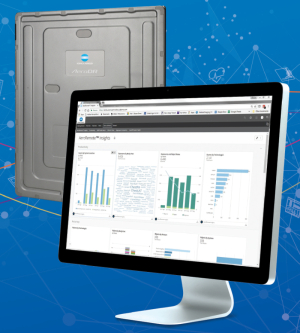 Dr. Pradeep Albert, a radiologist with Medical Arts Radiology on Long Island, N.Y., said he notices better signal-to-noise ratio with REALISM and said the images processed faster than they did previously.
"REALISM has become an integral part of our practice," Albert said. "We've really seen the impact in cervical spine, abdomen, smaller bones and fine bony detail, such as the fingers and toes. … We are experiencing fewer retakes and repeat views, which means less X-ray exposure to the patient. This also improves workflow significantly, with patients waiting less and completing their exams quicker."
At the end of May, Konica Minolta released AeroRemote Insights, a cloud-based business intelligence tool available with Konica Minolta AeroDR Digital Radiography Systems, designed to help radiology managers and others responsible for the productivity of the radiology department.
The product provides analytics on things including procedure volume, staff performance, dose metrics and the overall health of the AeroDR system, in an effort to improve department performance, enhance personnel productivity and improve the patient experience.