by
John R. Fischer
, Senior Reporter | March 18, 2019
From the March 2019 issue of HealthCare Business News magazine
Though services such as anesthesia are available to calm and relax the child, its use can often be a hindrance in conducting procedures.
"For cardiovascular disease pediatric cases, a lot of times in the past we've had to use anesthesia to relax or sedate them," said Dr. Kanae Mukai, medical director of noninvasive cardiovascular imaging at Salinas Valley Memorial Hospital System and Ryan Ranch Center for Advanced Diagnostic Imaging. "That's commonly a challenge because compared to imaging other parts of the body such as the brain or musculoskeletal region, the heart is a constantly moving organ and needs to be timed almost meticulously. The patient needs to be absolutely focused and not distracted."

Quest Imaging Solutions provides all major brands of surgical c-arms (new and refurbished) and carries a large inventory for purchase or rent. With over 20 years in the medical equipment business we can help you fulfill your equipment needs

Anesthesia also increases risks, extends waiting periods for procedures and means higher costs for exams.
"The challenge of sedation extends well beyond the risk. It is a lot harder to get access to MR because you have to be at a facility where people are skilled in pediatric sedation," said Dr. Shreyas Vasanawala, professor of radiology and director of MRI at Stanford University. "Even at those places, the availability of that expertise is limited. It tends to drag out when you can get that, and it drives up cost."
Another area of fear lies with the noises made by the machine. The presence of an audio system in the form of headphones can act as a soothing distraction, making patients feel more at ease by providing music for them to listen to and a way to interact with the doctor and technologist.
"MR sound can hit up to 110 decibels, so you have to provide hearing protection anyway," said Spencer Howe, CEO of MRIaudio. "The other important thing to remember is communication, so that the patient does not feel isolated."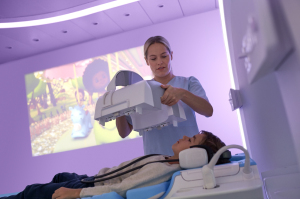 What are your options
In addition to the marina room, Benioff also possesses rooms modeled after California's redwood forest, the San Francisco Golden Gate Bridge, its cable car system, and the Bay Area. The aim is to distract the child from the fear they feel toward the procedure.
This, however, is just one of many innovations available for quelling patient fears. For instance, at Arkansas Children's Northwest, children undergoing MR procedures are fully immersed in other worlds with the use of the hospital's Philips Ambient Experience In-bore Connect.